Video-Based Document Tracking: Unifying Your Physical and Electronic Desktops
Abstract
We present an approach for tracking paper documents on the desk over time and automatically linking them to the corresponding electronic documents using an overhead video camera. We demonstrate our system in the context of two scenarios, paper tracking and photo sorting. In the paper tracking scenario, the system tracks changes in the stacks of printed documents and books on the desk and builds a complete representation of the spatial structure of the desktop. When users want to find a printed document buried in the stacks, they can query the system based on appearance, keywords, or access time. The system also provides a remote desktop interface for directly browsing the physical desktop from a remote location. In the photo sorting scenario, users sort printed photographs into physical stacks on the desk. The system automatically recognizes the photographs and organizes the corresponding digital photographs into separate folders according to the physical arrangement. Our framework provides a way to unify the physical and electronic desktops without the need for a specialized physical infrastructure except for a video camera.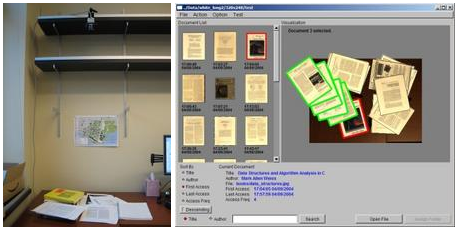 Research Paper
Video
Presentation
More Details
Video-Based Document Tracking: Unifying Your Physical and Electronic Desktops
UIST 2004, October 2004. pp. 99-107.