Identification and Validation of Cognitive Design Principles for Automated Generation of Assembly Instructions
Abstract
Designing effective instructions for everyday products is challenging. One reason is that designers lack a set of design principles for producing visually comprehensible and accessible instructions. We describe an approach for identifying such design principles through experiments investigating the production, preference, and comprehension of assembly instructions for furniture. We instantiate these principles into an algorithm that automatically generates assembly instructions. Finally, we perform a user study comparing our computer-generated instructions to factory-provided and highly rated hand-designed instructions. Our results indicate that the computer-generated instructions informed by our cognitive design principles significantly reduce assembly time an average of 35% and error by 50%. Details of the experimental methodology and the implementation of the automated system are described.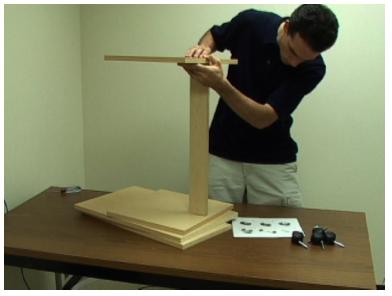 Research Paper
High resolution PDF (13.8M)
Low resolution PDF (632K)
Presentation
Identification and Validation of Cognitive Design Principles for Automated Generation of Assembly Instructions
Advanced Visual Interfaces 2004, May 2004. pp. 311-319.