Assignment 1: Visualization Design
From CS294-10 Visualization Sp11
Assignment Due: January 26, 2011 by 9am
In this assignment, you will design a visualization for a small data set and provide a rigorous rationale for your design choices. You should in theory be ready to explain the contribution of every pixel in the display. You are free to use any graphics or charting tool you please--including drafting it by hand. However, you may find it most instructive to create the chart from scratch using a graphics API of your choice.
100 Top-Selling Books of All Time (in the UK)
I originally found data at the Guardian's DataBlog site. That site describes the data as follows:
The top 100 books - of all time and of the last year - is out. It shows Dan Brown's Da Vinci Code is the big seller of the last decade, followed closely by JK Rowling's Harry Potter novels.
The data itself is a Google spreadsheet. It contains several sheets, but the main sheet includes the top 100 bestselling books of all time and looks something like this: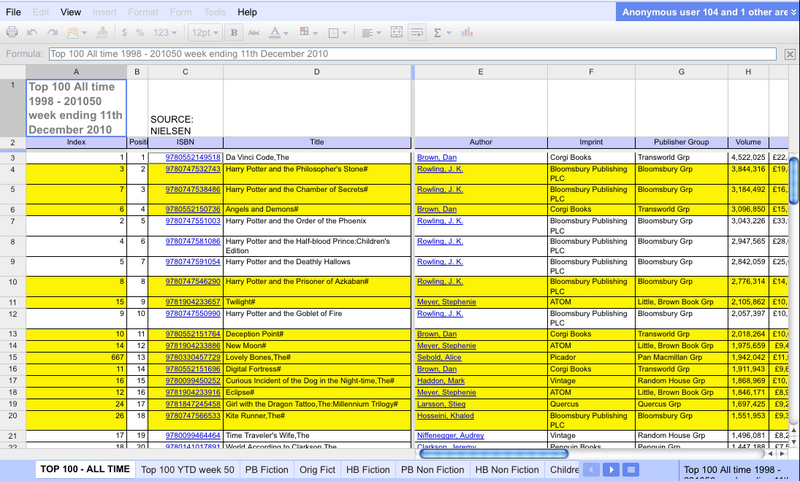 You can download this data from the Google Spreadsheet directly by selecting the File > Download As menu option. Or you can download the data as a CSV file I saved on 1/8/11.
Assignment
Your task is to design a static (i.e., single image) visualization that you believe effectively communicates the data in the Top 100 All Time sheet of the file and provide a short write-up (no more than 4 paragraphs) describing your design. While you must use the data set given, note that you are free to filter and transform the data as you see fit to highlight the elements that you think are most important in the data set.
As different visualizations can emphasize different aspects of a data set, you should document what aspects of the data you are attempting to most effectively communicate. In short, what story (or stories) are you trying to tell? Just as important, also note which aspects of the data might be obscured or down-played due to your visualization design.
In your write-up, you should provide a rigorous rationale for your design decisions. Document the visual encodings you used and why they are appropriate for the data. These decisions include the choice of visualization type, size, color, scale, and other visual elements, as well as the use of sorting or other data transformations. How do these decisions facilitate effective communication?
Submission Details
This is an individual assignment. You may not work in groups. Your completed assignment is due on Wed Jan 26, by 7:00am. We will be discussing submissions in class, so be sure to avoid a late submission!
To submit your assignment, create a new wiki page with a title of the form:
A1-FirstnameLastname
Your submission page should include your write up and a copy of your visualization in a standard image file format (JPG, PNG, or GIF). To upload images to the wiki, first create a link for the image of the form [[Image:image_name.jpg]] (replacing image_name.jpg with a unique image name for use by the server). This will create a link you can follow that will then allow you to upload the image. Alternatively, you can use the "Upload file" link in the toolbox to upload the image first, and then subsequently create a link to it on your wiki page. See the example I created here
You should also create a link to your submission in the list below. The first entry in the list is an example. =
Add a link to your finished assignment here
One you are finished editing the page, add a link to it here with full name as the link text. The wiki syntax will look like this: *[[A1-FirstnameLastname|Firstname Lastname]]. Hit the edit button for this section to see how I created the link for my name.
---