A3-PaulOppenheim
From CS 294-10 Visualization Sp10
WARNING: this just a big complaint right now. Will be a homework assignment soon.
Brainstorming, Pre-visualization research
OpenGov data - that's supposed to be a big deal, I wonder what's in it?
my email - what is my actual social network? Correlate phone, email, addressbook, txt message. Perfect.
no, can't do personal info - how would I present it?
Oh shit, this crazy american pissed off at the IRS flew a plane into a federal building? I wonder what data.gov has on the IRS
Turns out the IRS has almost nothing of relevance or interest on data.gov; that could be a story in itself (what should they have up? who else is dodging the bullet?) but not good for this assignment.
Dude, my personal finances! Why should I even care about the rest of the world when I don't even know what my own money is doing? It would be easy!
No, even better! My personal timesheets! I have been wanting a reason to dig at that data forever.
Personal data has too many liabilities to be presented in a classroom environment. I could make a whimsical Feltron annual report style, but I don't capture that much data. It's not a journal. Makes me curious what Feltron tracks, and how.
Now I'm stuck. I have thing I could do and am interested in, but don't feel comfortable making the answers public. What am I interested in that I have data access to that I can make public assertions about?
Sunday
Don't have a PC, so can't use tableau. Gonna test other apps.
Browse data.gov again. FEMA declarations of emergency? Let's see how this goes.
Install Improvise. It doesn't launch. Read the docs. It's a java app... dick around with java prefs, open the app bundle, edit Info.plist... works!
No obvious way to open a CSV file in Improvise, no instructions. Awfully useless docs, and examples are full projects.
Download GGobi. Install. Works!
GGobi is not the most intuitive app. Turns out it assumes a lot about numbers, and doesn't work very well with nominal data. Doesn't even work well with my simple final haiti CSV file, and the FEMA data looks like mush.
Install VirtualBox, search for windows CDs in my apartment.
Install Windows, get on update treadmill, continue to look through the data.gov data.
Dept of Labor java applet crashes firefox, can't get employment CSVs.
care and feed for windows updates, suddenly it's 3am.
This is what I got from GGobi. It would show which states have the lowest natural disasters, but GGobi turns all Nominal data into IDs, so it takes more digging.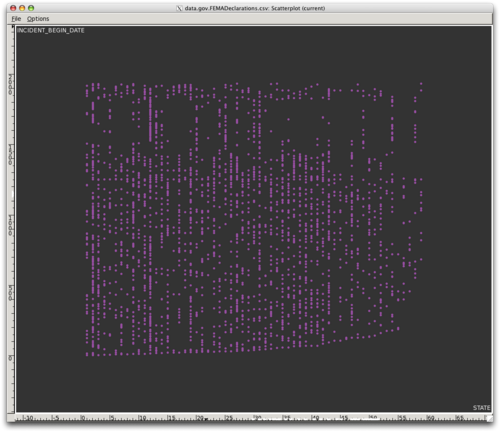 The ones on the right seem to have fewer disasters, and have higher IDs. GGobi *does* have a column in the "Varaible Manipulation" table for the count of state occurrences, and there's an ability to sort on that column. The list of "states" that have the fewest disasters is educational: I've never heard of most of these.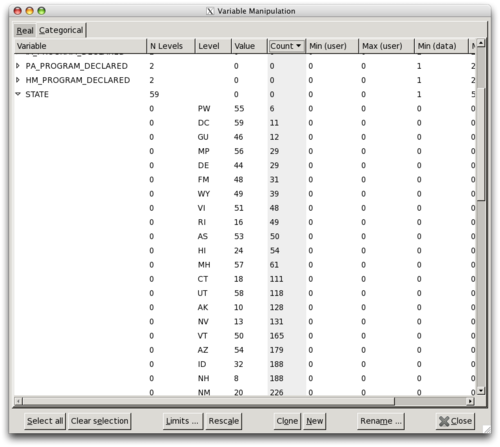 Courtesy the USPS

PALAU                           PW
DISTRICT OF COLUMBIA            DC
GUAM                            GU
NORTHERN MARIANA ISLANDS        MP
DELAWARE                        DE
FEDERATED STATES OF MICRONESIA  FM
WYOMING                         WY
VIRGIN ISLANDS                  VI
RHODE ISLAND                    RI
AMERICAN SAMOA                  AS
HAWAII                          HI
MARSHALL ISLANDS                MH
CONNECTICUT                     CT

So at least GGobi has taught me that Palau is hella safe. The least safe - by far - is Texas with 3247. CA is 942.
...
Hopefully I'll get a windows VM running soon, not holding my breath. Sleeping for now.
The class link for Labor stats from Online Datasets works - class link. That is not the page I saw before. Looking a little before I drift to sleep.
---