A1-ShimulSachdeva
From CS 294-10 Visualization Sp10
Good Visualization
World Population Distribution by Region, 1800–2050
Source: United Nations Population Division, Briefing Packet, 1998 Revision of World Population Prospects; and World Population Prospects, The 2006 Revision.

The image serves as an easy visual aid to compare populations of different regions of the world. First, it divides the world into 6 regions (shown as text in each rectangle) and then each region into four categories representing years (shown as bars of different colors). It is easy to glance at the image and compare. For instance, In 1800, the vast majority of the world's population (85 percent) resided in Asia and Europe, with 65 percent in Asia alone. By 1900, Europe's share of world population had risen to 25 percent. I think it is a good visualization due to the ease with which information can be analysed and understood.
Bad Visualization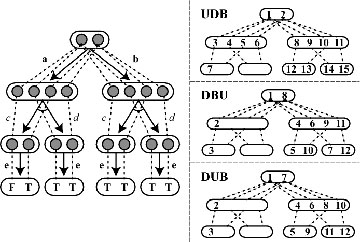 An abstract belief-state AND/OR tree representing a partially observable, nondeterministic domain, and the order in which three of our new algorithms (UDB, DBU, DUB) would explore this tree.
Source: EECS Research Summary 2009, Chapter 1, Page 15 (Adversarial Reasoning with Partial Information)

The purpose of the article (Adversarial Reasoning with Partial Information) is to serve as an introduction to an AI research project being conducted at Berkeley. The focus of the research is on techniques for reasoning in the game of Kriegspiel, a partially observable variant of chess. The image does not explain any of the algorithms it refers to or what they are. It is hard to look them up too since only their acronyms are provided. The research summary that goes along with the article does not refer to the image either, making the visualization bad. Perhaps the "badness" is not so much due to the image itself, but due to the context and its apparent misuse with lack of supporting information.
---