A2-FloraineGrabler
From CS294-10 Visualization Fa08
After reiterating several times between asking an initial question and not finding the data to answer it, I finally found an interesting data set which gave rise to many questions.
Dataset
Source: Swiss center of statistics [1]
Format: The data was in a table which I copied to Excel. I then replaced all the empty cells by -1 and translated the labels to English.
Questions
Is the number of marriages/divorces/birth rate an indicator for conservative/religious countries?
Visualization
I first plotted the number of marriages (per 1000 inhabitants in 2006) for each country and sorted the countries according to the values.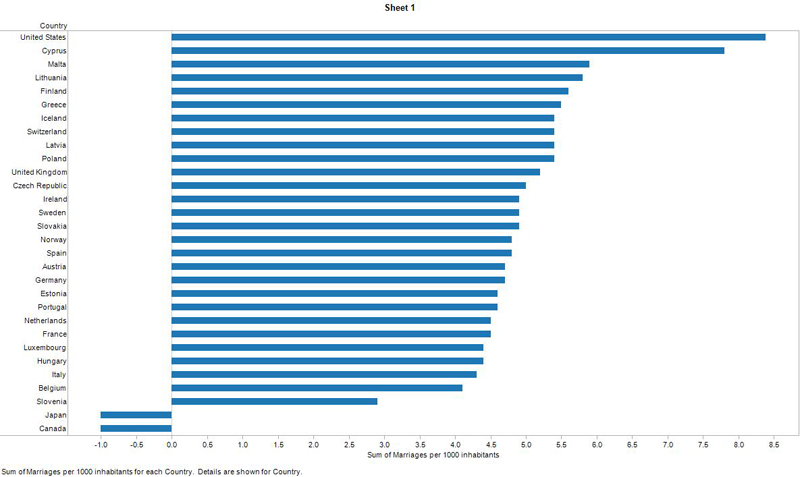 The results were not as expected and there does not seem to be much difference between the countries in the number of marriages except from the USA and Cyprus which seem to have significantly more marriages than other countries. Also countries such as Italy where Christianity plays a large role are actually quite low in the list. Note that the countries with values -1 correspond to invalid entries where no data was available.
Next I plotted the number of divorces (per 1000 inhabitants in 2006) for each country and sorted the countries according to the values.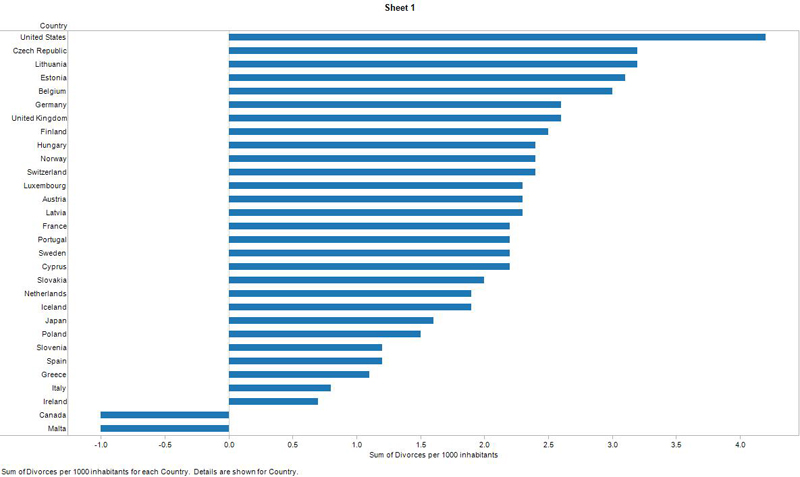 This seems to reflect more the correlation with religious/conservative countries as marriages which might not always be motivated by religion. As expected, countries such as Italy, Greece, Spain and Japan have few divorces. Surprisingly, the United States are also the country with most divorces.
As a side question, this made me wonder about the ratio between marriages and divorces.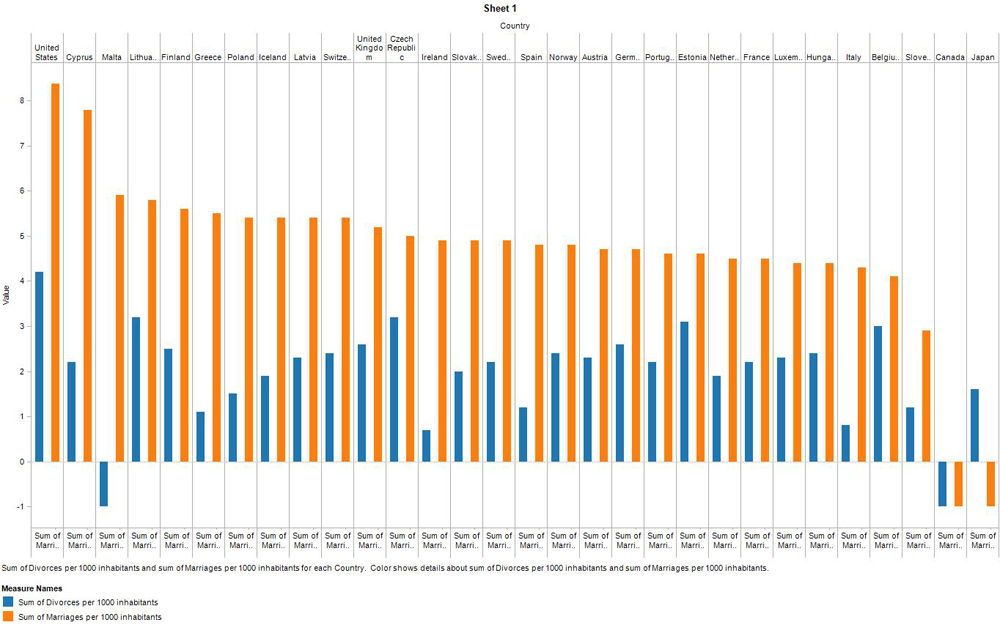 In general the ratio seems to be 2:1, 2 marriages for 1 divorce. It is much higher for conservative countries, for example 5.5:1 in Greece, 10:1 in Ireland, 5:1 in Spain, 5:1 in Italy.
Finally, I plotted the births out of wedlock (in %):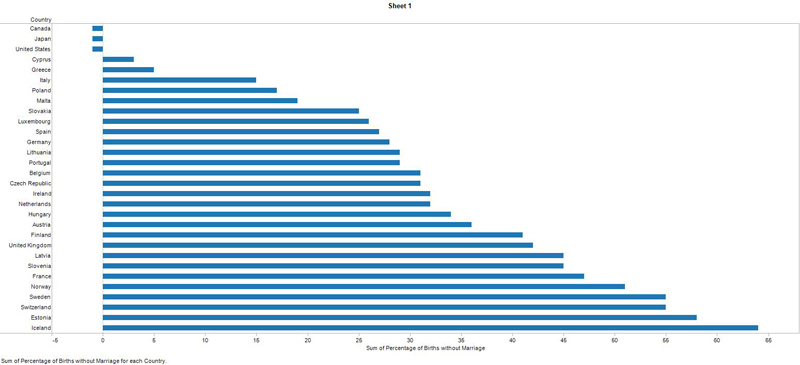 As expected, Italy, Poland, Spain have a low percentage of births out of wedlock.
I also intended to combine different graphs. Unfortunately because the value range and unities of fields are very different, the combination wasn't very meaningful. I would have needed to normalize the data before visualizing it.
Discussion
In general, I liked working with Tableau. It was very easy to create some visualization and to interact with the system. I would have wanted to have more control over the values of the fields, for example being able to take the ratio of two values or just to normalize it. It would also be nice to have some more control over the axis, for example even if the values go from [0,8] I might want to just render [5,8] and ignore all other values. In general, data manipulation could be helpful (remove irrelevant data columns, eliminate invalid data). Another extension would be to allow a user to directly annotate the graph and highlight different parts.
---