Acquiring Flex
From CS294-10 Visualization Fa08
Step 1: Finding the site
The first step is to navigate to the following site which is somewhat hidden on the Adobe site.
[Adobe Flex Builder 3 Pro for Education]
Step 2: Accept the Agreement
The link should bring you to this page: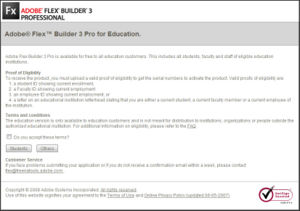 Check the box to agree to the terms and click on Students if you are acquiring a student license.

Step 3: Submit Registration Information
Fill out all the required fields (make sure you use a valid email) and upload a scanned image of your student ID.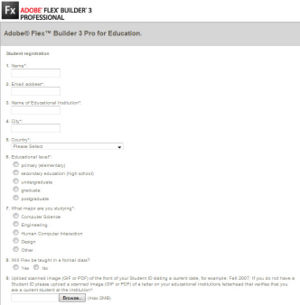 You will be directed to the following page: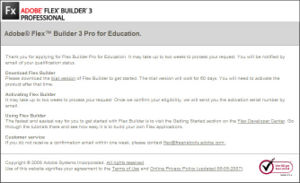 You will not immediately receive an activation serial number - this will be emailed to you once they process your information (I received mine the next day).
In the meantime you can download Flex, which comes as a 60 day free trial. The key you will receive will remove the trial period and unlock charting components.
Step 4: Download Flex
You can follow the link on the page or equivalently click the following link: [Download Flex Trial]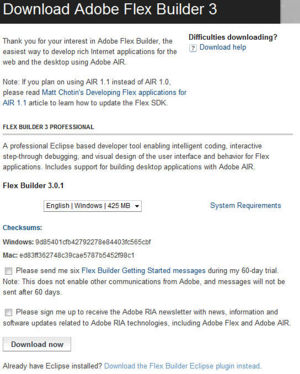 You can download Flex Builder here or alternatively follow the link at the bottom of the page to download the [Eclipse plugin ]instead.
Maxwell Pretzlav - Oct 01, 2008 10:02:56 pm
For those who simply want to download the trial, BugMeNot will save you the trouble of registering an Adobe account.
---