A1-HazelOnsrud
From CS294-10 Visualization Fa07
(work in progress)
An Example of a Good Visualization:
''The Berkeley Recycling Handout
The image before you open the brochure: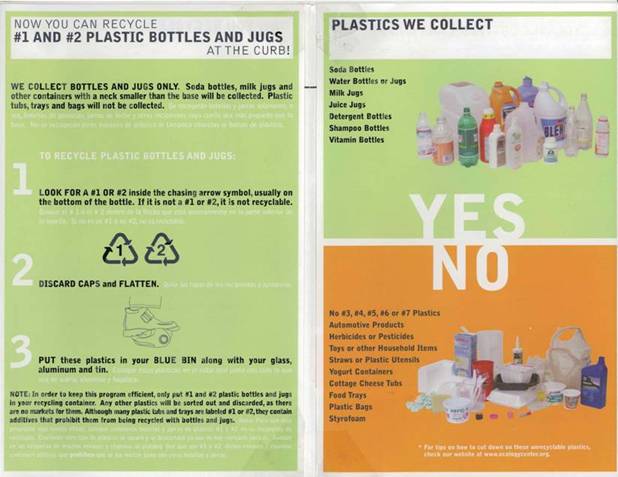 The image on the inside of the brochure:

This is example has been taken from:

Ecology Center (2007). "NOW YOU CAN RECYCLE MORE/ AHORA SE PUEDE RECICLAR MAS." Berkeley Curbside Recycling.
(I should note that the hues' tonal variations are the result of my lack of scanning skill, rather than an accurate representation of the brochure.)

ANALYSIS/DECONSTRUCTION:
This visualization displays information on what Berkeley residents can and cannot recycle and how to recycle eligible goods.
This message is emphasized through consistent use of color (blue for neutral or general information, green for things to recycle, orange for things not to recycle), text in two languages, and actual photos of example products throughout the entirety of the brochure. Through the consistent use of such varied methods of expression, the brochure has a greater likelihood of being examined and understood by a wider range of viewers.
One measure of a good visualization could be when the document's primary visual cues would be enough for many people to have a basic understanding of the document without examining the more detailed information (labels, writing, or further resources) contained in the diagram. I believe brochure accomplishes this and goes further; certain messages are subtly emphasized more than others in order to highlight what the makers view as important, helpful, or possibly not obvious information. The primary data, is the wide range of products that can and cannot be recycled. Examples of the varied data set are chosen for their frequency of use and/or frequency of misuse (people misinterpreting what they can or cannot recycle) and then the examples are clustered into certain categories and subcategories. While not the primary visualization...even the writing has been used in a visual manner to create varied layers of expression with its size, color and font. For example, the front of the brochure simplifies much of its writing into "1,2,3" steps and the instructions "YES" or "No," while a second layer of emphasis is hidden further in the text calls attention to instructions important to recycling success. Phrases such as "WE COLLECT BOTTLES AND JUGS ONLY" or "FLATTEN" are capitalized for emphasis.
In summary, this visualization does exactly what the one below fails to do; it communicates a concise message to the viewer, emphasizing its meaning in a variety of manners, in hopes of providing the viewer with a common, useful perception of the subject.

An Example of an Insufficient Visualization:

United Airlines' "Airport Map"
Washington Dulles International Airport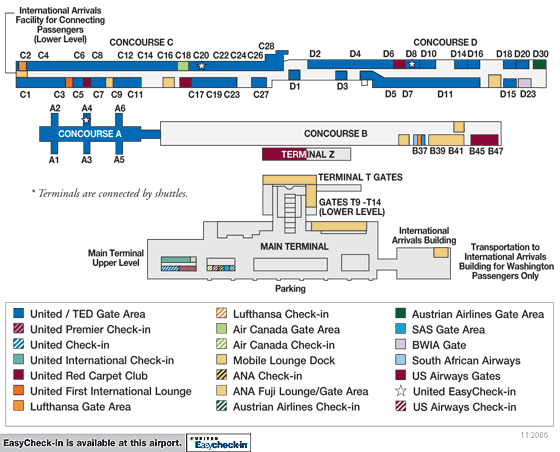 This is example has been taken from:
United Airlines (August 2007). "Washington Dulles International Airport." United Hemispheres Magazine. Services and Information, Airport Maps. Accessed Online, August 31, 2007. http://www.united.com/page/article/0,,1124,00.html (I had the paper copy, but the illustration online was in much better condition, and consequently I used it here, as was allowed within our assignment's constraints.)
ANALYSIS/DECONSTRUCTION:

At first glance there is nothing too offensive about this map. Like colors are not juxtaposed, the contrasts between the hues are not distracting, and the overall diagram is neat and simple. Unfortunately, this visualization's failing lies in its primary purpose: to assist passengers traveling to this airport by familiarizing them with what their surroundings will be on the ground and to provide them with information relevant to their needs and desires.

The data included is the outline of some of the various areas of the airport, primarily where United's flights arrive and depart. Certain areas and services are labled, but the conglomeration of data seems, at times to be rather arbitrary. This visualization is hindered by its lack of a clear purpose, something that is made instantly clear by simply examining its misleading title. Because this image is under the category "airport map" and labeled "Washington Dulles International Airport," one would expect that it is a map of the entire airport, yet the image actually depicts a single terminal of the airport that United Airlines uses. Because this information is not explicitly given, (and must be deduced from the large proportion of blue "United/TED" areas on the map), travelers transferring to flights on other airlines are given no information about even the direction of their terminals or gates. As United is not a luxury airline, and many budget travelers use it, such connections are bound to happen. (Anyone who has traveled using multiple carriers knows that it is during these connections that one needs all the help one can get in order to make their flight.) Consequently, this map not only excludes the needs of a large percentage of its audience by omitting essential information, but it also misleads its potential users with a false name.

The viewers who may find this map more useful would be ones transferring to United Flights or departing from the airport altogether. Yet, the visual cues of the image could even hinder their interpretation of the area. Either too much information is given, or too much is omitted (depending on the map's goal), making the data hard to interpret. For example, the colors representing many of some of the areas are too similar to easily tell the difference between, and many of the labels are insufficient to understand. The maps note the terminals are connected by shuttles but fail to note where they leave from. In general, if United wanted this to be primarily a map of their terminal, it could have been beneficial to exclude some of the other airlines' check in areas or mentions of "Terminal T Gates" that they do not use. Including unexplained labels (ones whose meanings are not explicit) simply increases the map's current insufficient complexity.

Unfortunately, this visualization offers little clues on how to use the information given, much less, how to clarify the meanings of any images the viewer may find unclear. For example, there is no area (in the paper or web version) that allows one to better decipher what the significance of some of the labels in the map's key are. They do not seemed to be noted in any order (such as alphabetical) or grouped in any particular way. What "BWIA Gate" or "Easy Check-in" imply may not be obvious to all viewers and some basic organization of the concepts or reference to more information could help illuminate their purpose.

By this examination one can conclude that this visualization is insufficient for many of its audiences' needs and could mislead even those viewers who could benefit from its display. This visualization fails to effectively communicate a message and thus, should be considered inadequate.

A1 Part B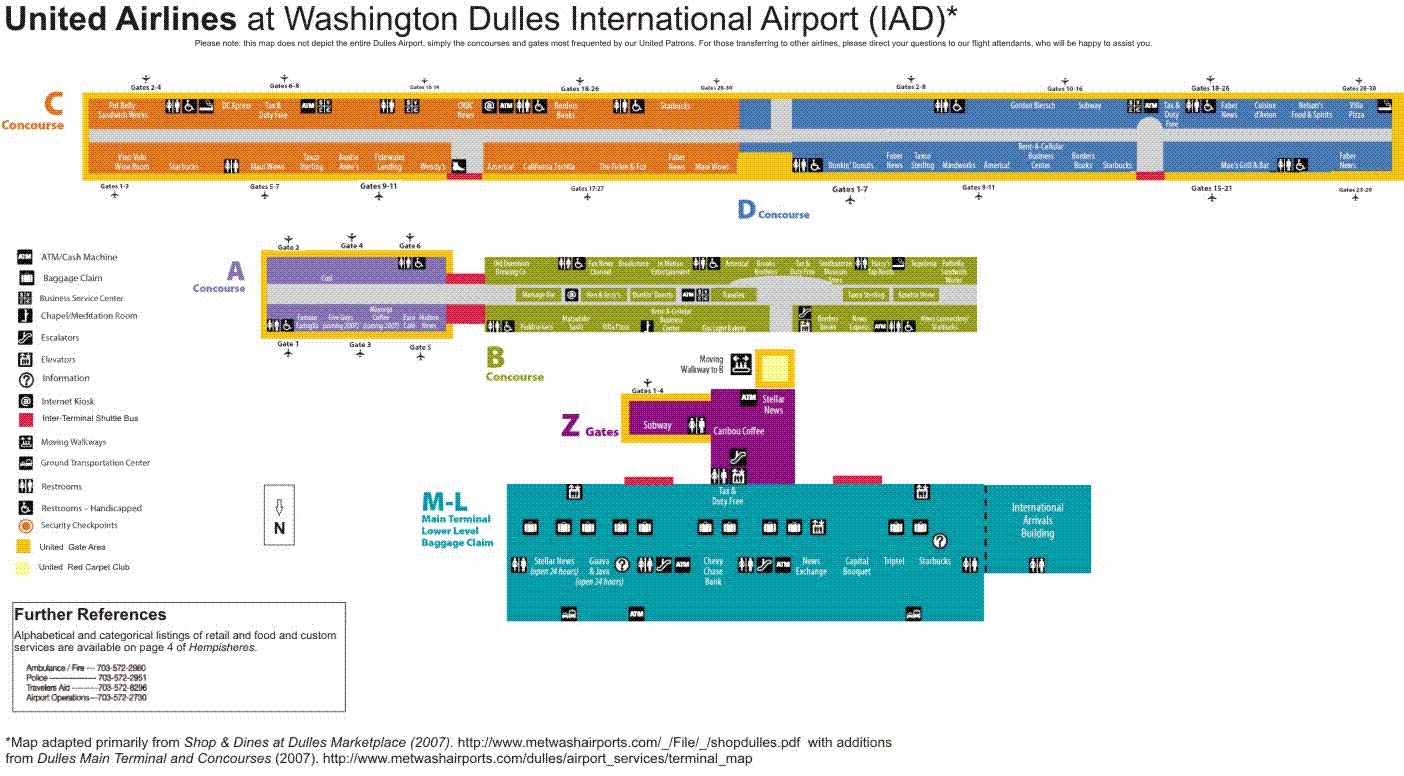 In order to attempt a more accurate representation the following resources were examined:
Metropolitan Washington Airports Authority (2007). Accessed Online: September 7, 2007. http://metwashairports.com/dulles/parking_transportation_3/directions_maps/terminal_map
World Airport Guide (2007). Washington Dulles Airport Guide (IAD) Accessed Online: September 7, 2007. http://www.worldairportguide.com/airport/438/airport_guide/North-America/Washington-Dulles-International-Airport.html
Washington Dulles International Airport (2007) Wikipedia. Accessed Online: September 7, 2007. http://en.wikipedia.org/wiki/Washington_Dulles_International_Airport
Although I believe that ultimately United Airlines would aid its passengers the most by providing them with a detailed map of the entire airport and all of the airlines, (thus facilitating ease of transfer among passengers changing air carriers) I decided to stick with what the audience that I believe they originally intended the map for: United passengers staying in the terminal and changing to other United flights. I did make some allowances for passengers leaving the airport, as I showed the baggage claim area and map to ground transportation but I excluded parking areas, certain ticket counters and the orientation of the airport to the nearest landmarks…items which may have aided those ending their journey.

Notes of the most drastic changes include:
•Basic Corrections:
o Correct labeling of the "main terminal" *
o More accurate representation of the relative scale of the building* •Better Definition of Resources
o Better use of color (notably different hues to define different resources, and any color correlation has a more explicit meaning, for example, various United Airlines' areas are varying shades of gold (one of their colors))
o Creation of a key that is in a common order & includes more information relevant to the common passenger
o Note of resources useful for transferring passengers (ex: food, restrooms, phones, duty-free shops, internet kiosks)
o Better marking of resources for United patrons ending their journey in Dulles (ex: note of baggage claim, ground transportation options)
o Note of resources for more information (ex: phone numbers and directories) (I was going to include some website addresses here to future maps etc…but as there is no web capability on the carriers at the moment I figured this would do more to clutter up the photo than have a positive effect.)
as noted by the Metropolitan Washington Airports Authority
---