HeuristicEvaluation-VidyaRamesh
From CS 160 User Interfaces Sp10
Trip Planner
Violation: Name of second view in "Trip Planner" tab as well as the repeated text in the second view.
Rule: Consistency and Standards / Recognition rather than recall
Why: The title of the second view is "Scheduler", which implies that the user is back on the Scheduler tab. This is a faulty assumption since the tab selected is still the Trip Planner tab. There is also some confusion on what exactly is relevant in the view since information such as "Fare", "Address", and "Timings" is all presented in a view that is accessible only by clicking a "Show timings" link. A first time user would also not know that information about the Fare could be accessed through the "Show timings" link and would have to remember this path of accessing this information for their next use of the application. The repeated text in the "Timings" part of the table also just unnecessarily creates clutter in an otherwise aesthetically appealing view. Severity: 3 Frequency: There are multiple problems that lower the usability of this particular set of views. The frequency of each of the problems is at most once, per problem. Impact: I think the problem concerning the access of information about fares and addresses would be difficult to overcome. The other problems such as the aesthetics of the view and the title of the view are much easier to overcome, but are far more irritating to the user. Persistence: Finding out the path to access the fare information and the address of a station is a one time problem, but the other problems are persistent between all the uses of the application.
Bart Map
Violation: The differing color of the background across various views.
Rule: Aesthetic and Minimalist Design/Consistency and Standards
Why: The background color switches between the typical blue of an iPhone application and a plain black screen. This causes the user to wonder if the application was poorly made and if this application is the combination of two different applications.
Severity: 1
Frequency: Every other tab is a different background color from the previous tab.
Impact: It does not hinder the user, even if it leaves a bad impression of the application.
Persistence: It is very easy to overcome and is just a cosmetology problem.
Bart Guide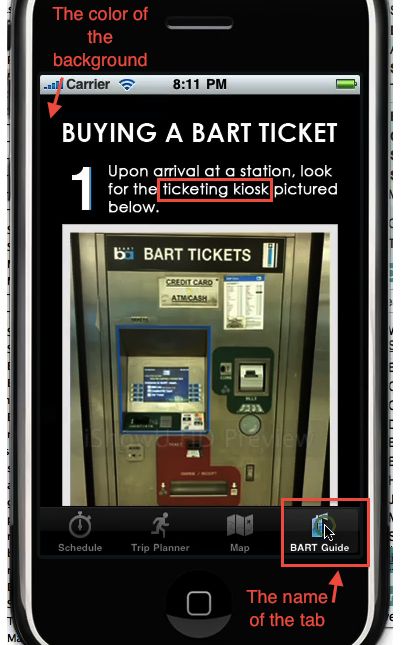 Scheduler
---