GroupBrainstorm-Group:Coach Class
From CS 160 User Interfaces Sp10
Group Members
Brainstorm Ideas
Our brainstorming process began with generating ideas inspired by each of our individual proposals. We then focused on new uses/ways to exploit the various features of the iPhone, considering novel ways to use the microphone, accelerometer, etc. When those ideas ran dry, we considered specific hobbies and small user groups that had yet to be targeted by a mobile application, exploring the ways an app could be helpful for these people.
Our ideas
Guitar fretting position guide
Musical instrument tuner
Metronome
Synthesizer (like the DS game)
Teach how to play instruments interactively
Measure amplitude of sound waves, for example to set music volume based on background noise

Noise canceling using the microphone
Song decomposer (filter out certain frequencies to narrow down to one or two instruments)

Spoiled food alerter
Katamari game
Blackjack strategy (tell app the cards on the table and it suggests highest-probability move)
Bus schedules and arrival times
Parking meter reminder/payment

Designing origami crease patterns
Learning to fold origami
Remote control for computer
Remote control for RC plane/car
Snowboarding trick stats using accelerometer
Avalanche rescue beacon
Life alert (either push button for help or use accelerometer to detect an extended period with no motion which could mean trouble)
Accident detector
Hook guitar to iPhone, send notes to computer as an amp
Decorate your house virtually
Measuring tape
Fishing app (allow people to report today's good fishing spots, which bait to use for which fish, other ways to help with fishing)

Surfing app – where are the good waves?
Learning to write another language
Learning to speak another language (feedback on pronunciation)

Heart rate detection (using accelerometer or microphone)
Yoga app using accelerometer (to help with yoga positions)
Breathing exercises
Brainstorming application (quickly write, doodle, and number ideas) - for managing brainstorming sessions
Bicycling app – routes prioritized by difficulty, altitude
Stamp collecting application
Coin collecting application
Geotracing money
Store password-protected account/credit card numbers for easy retrieval

Location-based achievements game
Scavenger hunt (get hints on phone, take pictures of each objective)

Woodcarving application (take image and app tells you where to cut)
Haircuts application--try on hairstyles from your phone

Basketball game play follower - diagrams plays as they happen on TV
Use camera + GPS (+ compass if available) to make some sort of panorama map of an area you visit

Make new friends (leave app on, it'll connect to other phones with app nearby using bluetooth, and alert you when someone is nearby. perhaps select criteria for the kind of friend you'd like to meet today)
Sexual predator location detector app

Keep track of hours spent on each project, email invoices (for freelancers)
Calorie/point counter - record as you eat
Competitive food eating app -- keep track of how long it takes to eat a lot of things
Sports training, ie. throwing a discus (video and analysis)
Personal trainer app
3D Rubik's Cube app
Leg-twitching quitting app -- detect shaking motion in leg to notify

Virtual playbook for coaches (support all sports)
Identifying animal footprints
Bird calls for hunters
Idea Selection
After going through the list and eliminating the ones for which a decent application already existed, and the ones that were technologically feasible, our group was left with a list of around 10 ideas. We ultimately decided to work on a virtual playbook app for coaches because it was the one that we found most interesting overall from our list. It solves a very specific problem for a very specific user group, and we felt that a mobile app solution could vastly improve on the current "technology" of a coach's clipboard. Finally, we considered the technical requirement that this idea would involve, and concluded that while it was complex with plenty of room to grow, a feasible solution could be achieved within a semester, so that we could design and build a working, polished application.
Target Users
This application is intended for coaches and other people who design strategies for team sports such as football, soccer, basketball, or hockey. Success in these sports involves organizing movements of players to accomplish objectives and score points. Coaches are responsible for devising these strategies, and often their careers are affected by the success of their teams. Whenever a team wins or loses, it is usually the coach who is held responsible. The success of their strategies largely depends upon how well the players carry them out, which depends upon how well the players learn them. Thus it is important for coaches to clearly communicate their ideas to players. As coaches develop more and more strategies, they may find that certain strategies may be used for specific purposes or work better against certain teams, so it is necessary for them to efficiently organize them. Our application assists coaches in accomplishing these tasks.
Problem Description and Context
An essential role of any coach is to create and diagram plays for his or her players to execute during games. When doing this, they need decide on the best play for the current situation, and then express what they want their players to do in a clear, concise way. However, the only current solutions for coaches to present plays in the heat of a game is through marker and whiteboard. This is inadequate in that white boards often become dirty with repeated use. Quick, messy sketches make it difficult for players to discern what the coach wants them to do. Also, coaches oftentimes use plays that they have pre-prepared, but white boards offer no way of reminding them how the play worked. Instead, coaches must rely solely on their memory when diagramming it. Finally, coaches have no way of knowing, statistically, which plays are more effective than others in situations. They are forced to rely on gut instinct in selecting a play for the moment. These are all problems that our project hopes to address.

Coaches operate in a very hostile environment. They must work under great pressure and time constraint. Often, when drawing and explaining plays, coaches will have less than a minute to get their point across. Also, the environment they work in is mostly loud and boisterous, making spoken communication difficult. The education levels of the users may also vary. Coaches generally have an average level of education, while the education level of athletes encompasses those who have not finished high school, to those who hold graduate degrees. These are all factors that will affect the problem solution.
Why a Mobile Application?
Even the best plays on paper are simply just that... on paper. Coaches can write down their plays and show their team how it works, but it's a very tedious task. By moving the playbook to not only a digital environment, but also a mobile one, coaches can more efficiently keep track of their plays and take them wherever they go. A mobile application for playbooks allows coaches to not only take plays with them to games, but to also record any plays they spontaneously think of and need to write down. Inspiration for a play may come to a coach's mind anywhere, at any time, so with a mobile app, coaches can save their ideas regardless of where they are. They can simply draw out the play routes on the screen for each player, as they normally would on paper, and then run the play in the mobile environment to see how it looks. They would no longer have to meticulously explain to each player their individual routes, they could just have the play execute like a movie and let the players watch.
Lastly, in addition to the advantages of mobility and animation, coaches can keep track of statistics on each play directly in the app simply by editing the play's properties. This would be a nightmare on paper, since you'd have to get paper to record the statistics for each play, and every time a play is run the coach would have to manually update the statistics. However, with the app coaches can simply record the result of the play and the statistics would automatically update.
Solution Sketches
Basic Functions
Choose the sport/field
List of plays
Draw plays
Edit plays
Playback of plays step-by-step
Keep track of stats (which plays worked, which didn't, specific teams)
Sketches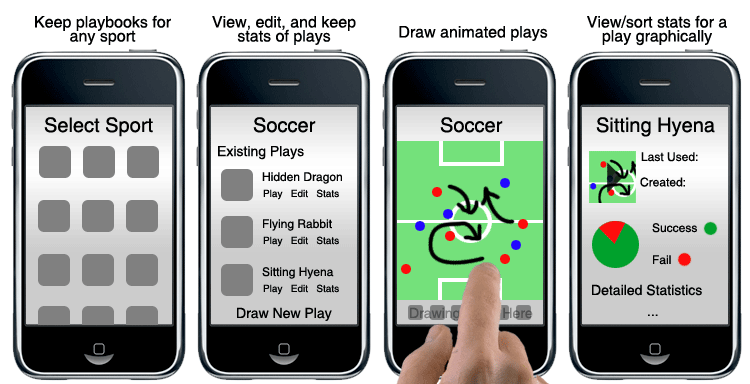 ---