Final Presentations
From CS 160 User Interfaces Sp10
(Difference between revisions)
Line 24:
Line 24:

'''Choreo''' - Streamline your dance practices! Easy song splicing and

'''Choreo''' - Streamline your dance practices! Easy song splicing and

sequencing with our portable music editor, created just for dancers.

sequencing with our portable music editor, created just for dancers.

-

-

'''Coach's Clipboard'''

-

-

'''PetTrainer'''

-

'''SKATEMASTER''' - Upload and share your trick repertoire. Become a local skate legend.

'''SKATEMASTER''' - Upload and share your trick repertoire. Become a local skate legend.

Line 59:
Line 54:

badges and assist group organization.

badges and assist group organization.

+

====INFO213====

====INFO213====
---
Revision as of 02:44, 25 April 2010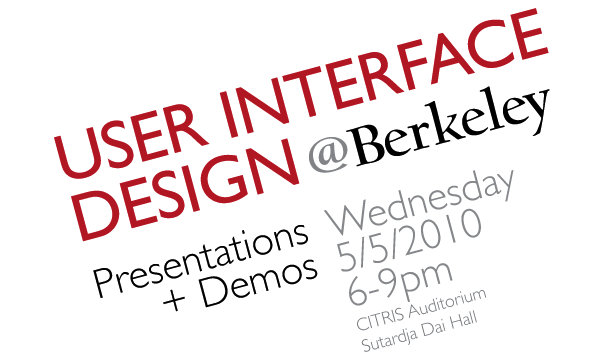 Final Presentations will be held on Wednesday, 5/5/2010, 6-9pm in the Banatao Auditorium and Kvamme Atrium in Dai Hall.
Presentations start at 6pm, posters at 7:30pm.
Teams from three courses will present: CS160, INFO213, ART178
Directions to Dai Hall (CITRIS Headquarters)
Guest Judges
Projects
CS160
'Grocery Guardian - An application that allows grocery shoppers to purchase allergen free foods for themselves and others by scanning the product barcode or searching a database.
Choreo - Streamline your dance practices! Easy song splicing and sequencing with our portable music editor, created just for dancers.
SKATEMASTER - Upload and share your trick repertoire. Become a local skate legend.
iDeck - iDeck is an application that aims to provide a network of portable card tables, boster social activity among friends, and keep traditional card games in the modern technology timeline.
iBeta - Rock climbing app for beginners.
Beerpressions - Providing beer aficionados an easy, efficient, and non-intrusive way to detail the subjective experience of tasting a beer as they drink it.
VetApp - A mobile social network for veterinary emergency doctors who treat small, non-exotic animals. Doctors can use their iPhones to ask questions on disease diagnosis and treatment, and receive answers from other physicians in real-time!
PetTrainer - Getting healthy is now as fun as a game when you and your virtual pet start training together in PetTrainer!
Roll Call - Quickly and easily take roll inside your classroom or on the go
iBCs - iBCs is a fun and interactive edutainment tool that allows children to creatively learn their ABC's and 123's.
iScout - An iPhone application for Boy Scouts to manage their progress in merit badges and assist group organization.
Coach's Clipboard
INFO213
Transporter - A novel public transit iPhone application to help riders get around the Bay Area
MySchool Music - An iPhone app for learning fractions while making music
ShareWhere - creating rules for sharing real-time location
phWarp - A mobile application that allows you to learn about your surroundings using historic images and information
Crohnology - Helps Crohn's disease patients capture, interpret, and act on information gathered from their observations of daily living (ODLs)
Mobile Web Annotation - Enables users to highlight, add, and retrieve notes to web pages in Mobile Firefox
Mobile CAPTCHA - Usable CAPTCHA Design for Mobile Devices
MeLo - Provides users with a way to add more personal and contextual information to location data
Closet App - Maintains a record of clothes in your closet and helps you put together and save outfits
A Good Choice - Helps users make informed purchasing decisions when confronted with a vast array of options
Sponsors
EECS Department | School of Information | IBM | Berkeley Center for New Media | Townsend Center Course Thread on Human-Centered Design