ProjectProposal-WeiWu
From CS 160 User Interfaces Sp10
Introduction
Parking meters are always a pain—who knows how long you will have to stay here or there, right? An application that keeps track of how much time is left on a user's parking meter and allows them to pay to extend their meter time would eliminate the inconveniences related to parking meters.
Target Groups
This application is geared towards users located in metropolitan or tourist-centric cities with parking meters as the primary means of public parking. These users either frequently make use of these spots out of either convenience or unfamiliarity with the area.
These people could be on-the-go business people, residents with errands to take care of, or tourists who are just meandering around the city. The bottom line is that they are preoccupied with some task that requires them to park somewhere, and they are unsure of how long it will take to do what they need to do. The users want to focus entirely on their larger task at hand—they do not want to worry about their parking situation while they are engaging in their business.
Problem Description
When leaving your car in a metered parking spot, there is always anxiety involved in figuring out how many quarters to insert into the machine. If you overestimate the amount of time you'll need at that location, you feel gypped for putting in too much money. If you underestimate the amount of time, there's even greater frustration from having to stop everything you're doing at that moment to backtrack and insert more money, or to risk getting a ticket for parking past the paid time.
If a user could pay for extensions on their parking time through their mobile phones, they would not have to go through the hassle of returning to the parking spot to pay for more time. An app on their cell phones could easily keep track of how much time they've paid for and how much time on the meter they have left, and allow them to pay for additional meter time if needed. This eliminates the stress and hassle oftentimes involved with metered parking.
Problem Context and Forces
The problems related to metered parking go beyond figuring out how long to pay for. To start, there's the issue of finding a parking spot in the first place. Tourists unfamiliar with the city would not know where to look, and even residents familiar with the city have a hard time guessing which street parking locations will be full. Thus recognition of and directions to available spots in the users' destination may be a desired feature.
Public parking often involves regulations on when and what type of people can park at a location, and the amount of time they can park there. This information would have to be clearly conveyed to the user in the application and integrated into the parking payment process on their phone. Those who attempt to park in a restricted location may want recommendations or directions to nearby parking spots where they can park.
Users who turn to this application on their mobile devices to check on their metered parking status expect the process to be significantly easier than walking back to the actual parking location, so the interface must be easy to navigate.
Related Solutions
Currently there is the Park 'n Find which allows users to log where they parked in a lot/structure at what time, with built-in GPS features to visually help them relocate their car when they are done with their tasks.
However, there is no infrastructure in place yet that I could find that allows civilians to pay for metered parking online/through their cell phones. The implementation of this concept involves a lot of civil planning considerations.
Solution Sketch
The GPS function could take the user's current location to make educated guess about which street parking location he/she are attempting to park at initially.
An alert/alarm can be set if the user would like to be notified when his/her meter runs down to a certain time.
Screen 1: Initializing meter/extending meter payment
Screen 2: Confirmation page
Screen 3: Timer/countdown for meter time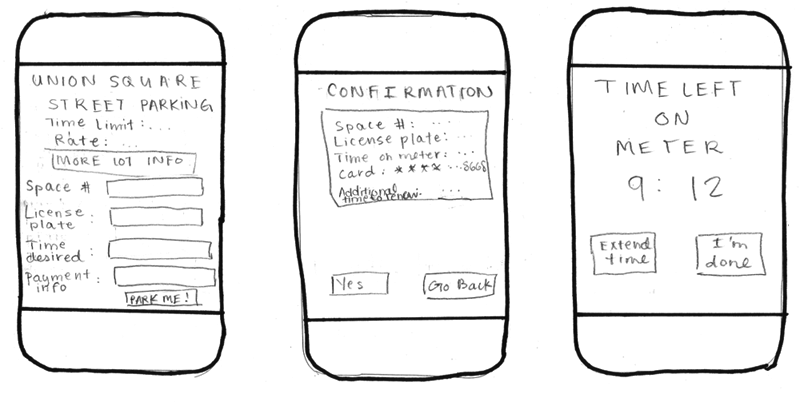 ---