ProjectProposal-VinsonChuong
From CS 160 User Interfaces Sp10
Footprint collects information about one's daily lifestyle and produces:
Useful information about resource usage,
Practical suggestions to reduce resource usage or increase efficiency, and
Compelling reasons to do so.
Intro
While thinking of possible projects, I recalled several things that had been on my mind:
Collecting small sets of data from users and presenting the same data in novel ways never gets old;
The thin-client model allows slow computers to outsource tasks to the cloud;
People don't search for better alternatives and usually go with whatever is immediately available.
The first and only idea to pop into my head was to do "something green". Then I thought―as I was writing this―why not collect information on people's lifestyles and leverage large databases in the cloud to figure out practical ways to reduce their impact on the environment. Footprint was born.
A Google search for "green iPhone apps" yielded a particularly long list of existing apps. Several apps on that list performed similar tasks to what I had in mind but were very simple and narrow in scope.
I wanted to somehow integrate all of those tasks into a single easy-to-use platform.
Target User Group
Ideally, users of my app would have the following characteristics:
Concerned about the environment,
Willing to take the time to input lifestyle information into the app,
Willing to allow storage of lifestyle information in the cloud, and
Willing to make lifestyle changes.
With these characteristics in mind, I would probably target young people in their 20's and perhaps teenagers as well. I want to target those who have been taught and who believe that preserving the environment is important. I want to target those who have no issues with uploading their personal lives to social networking applications. I want to target those whose lifestyles are not yet set in stone and can be changed.
Problem Description
There is an overwhelming lack of information about the importance of or how we can reduce our resource consumption. By "lack", I mean that we usually don't run into the topic during our day to day activities. It just seems unimportant.
I want to bridge the gap. I want to bring relevant and compelling information to people so that more realize the importance of the matter and the need to change. I want to show users that individual action is as important as action by larger groups.
An application on a mobile platform is perfect for collecting lifestyle information and delivering customized information.
Problem Context and Forces
It is difficult to convince people to invest time in an application and even more difficult to change their lifestyles. As discussed above, young people who use social networking applications and whose lifestyles are not yet set in stone may be good target users.
Many social networking applications seem to have great success in motivating users to participate and input information. Analyzing the "social networking" approach may reveal clues to success.
There are also many web applications out there that utilize the video-game concept of collecting points and earning rewards. Such an approach to motivating action has proven very effective in online gaming and goal-oriented social networking applications.
Solution Sketch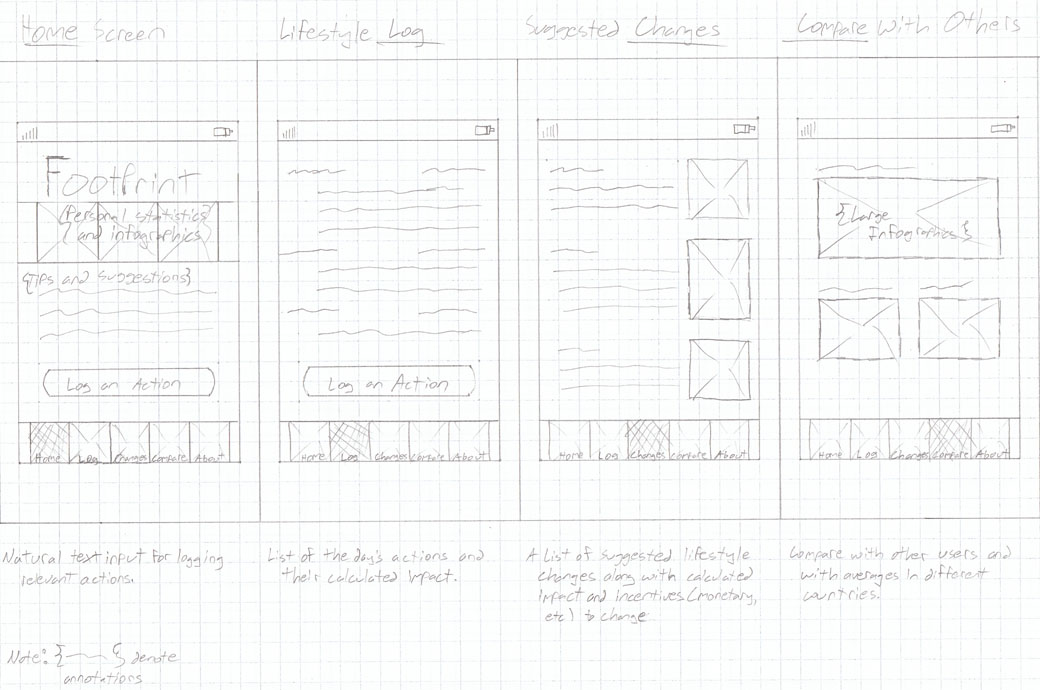 ---