ProjectProposal-SabaKhalilnaji
From CS 160 User Interfaces Sp10
Saba Khalilnaji
cs160-cj
Overview
The Gym Assistant is a workout aid for people who are serious about their goals.
Target User Group
There are people who go to the gym to hangout with friends, others visit the gym once every so often out of boredom or to get some exercise or alone time in their long weeks. My target audience is none of the aforementioned. The gym assistant is targeted for the people you see at the gym with a notepad and pencil, writing down every set, repetition, and weight used in their meticulously researched workout plans. Those who track and record their weekly gains in muscle and strength or measure their loss of fat, in hopes of finding what works for their own body. These people want to conveniently see the progress they make each week, month and year in an easily accessible and understandable format.
Problem Description
When the user goes to the gym, they have to take a notepad and pencil with them in order to record their workout data. If they have a towel, a music device, and a water bottle, this just adds more luggage to carry to each spot in the weight room. Furthermore, beyond writing down their workout results, the users also have to remake the chart of their routine in their notepad each session in order to be able to record their result. Lastly, when the user returns home and they want to make any sense whatsoever of their raw data, they need to renter it into some sort of spreadsheet to graph their progress.
Other miscellaneous problems can occur at the gym:
1. The user wants to quickly see what weight or rep/set scheme they used on an exercise they haven't done in a month.
2. The user decides to attempt a one-repetition maximum without a 1RM calculator.
3. The user wants to see how they've been progressing on an exercise each week to guess a weight to use in their current session.
4. The user wants to compare their progress during two different time periods, perhaps when they were using a different protein supplement.
Problem Context and Forces
The problems primarily arise because the tools need to do what the gym assistant does are not easily accessible in a gym. The gym assistant is special because it combines the notepad, the calculator, and the spreadsheet graphs into one solution that the user can with them anywhere at anytime. With such busy lives, ensuring proper nutrition, maintaining a regular workout schedule, and getting enough rest is already a task most people have trouble fitting in. Users motivated enough to spend the time writing down progress on paper, and typing it into a computer, making a graph, etc.. would be more inclined to use the gym assistant to save their invaluable time for everything else in life. Furthermore, anyone needing a little support to maintain their fitness lifestyles would find the gym assistant an invaluable tool to track progress and keep themselves motivated.
Existing Solutions
Besides doing it yourself with a notepad, pencil and a spreadsheet, the only other all-in-one solution is another iphone application called iFitness.
Solution Sketches
The following sketches are rough indications of the capabilities of the application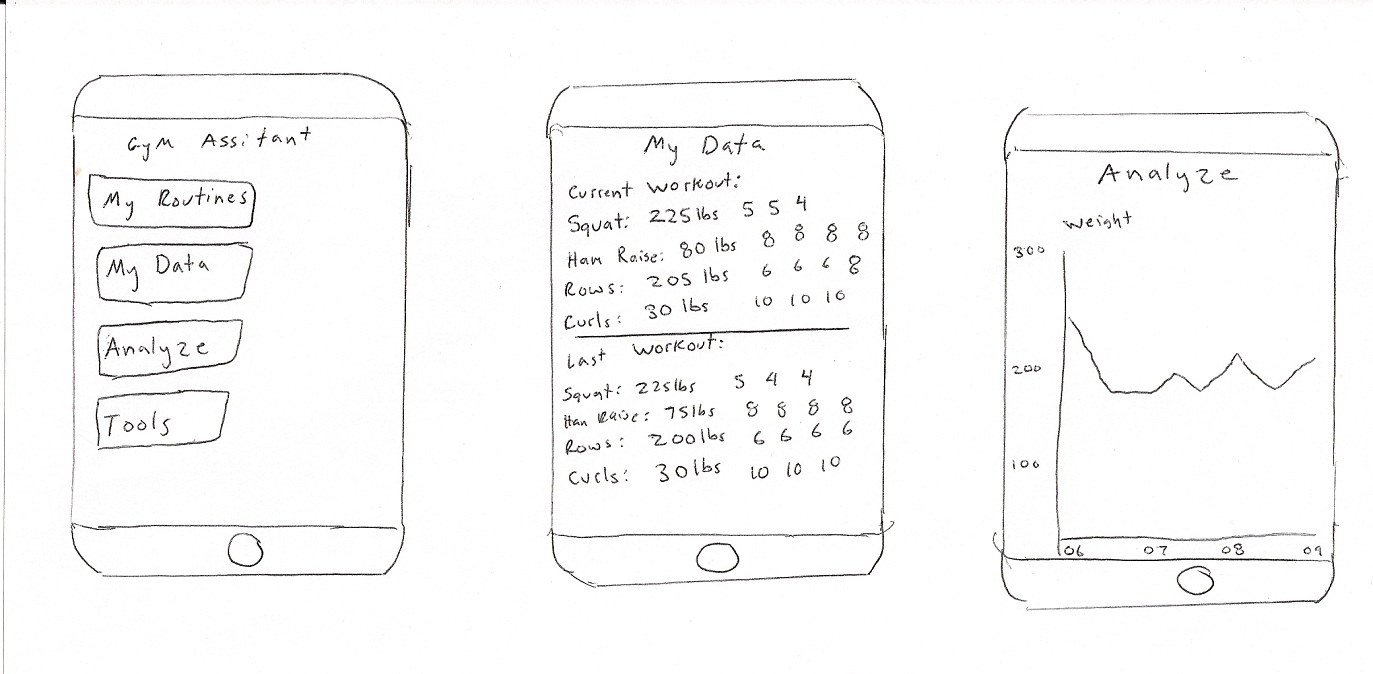 ---