ProjectProposal-MichaelCao
From CS 160 User Interfaces Sp10
Introduction: SmartText
Texting is a feature that practically all phones have. It allows people to message each other with text or pictures, and without actually having to speak with the other person. Almost everyone participates in texting, although people use it to varying degrees. However, texting is usually limited and do not provide the user various options to allow them to text more efficiently. Some of these options include sending the same text multiple times or automatically sending a text at a specified scheduled time. To address the lack of these options, my project proposal is for a texting application that gives the user the ability text with more features than a phone would normally come with.
Target User Group
The target user group consists of a wide variety of people. Anyone who likes to text, or can't live without texting will love this application. A specific group of people that would benefit from this application are people who like to participate in lottery competitions, where each text a user sends counts as one entry into the competition. So the more texts one sends, the higher the chance of winning. Also people who like to participate in any sort of voting via texting will benefit as well. Lastly, people who might like to send texts at specific times in the day for a wide variety of reasons would benefit greatly as well.
Problem Description
Imagine a scenario where you are voting for something via texting. Let's say you want to vote for your favorite singer on American Idol. Since you can vote an unlimited amount of time, you'd like to vote as many times as possible to give your favorite singer a better chance of winning. But each vote requires you to manually type that singers number and text it. This can become very time consuming. However, having this application allows you to type the text you want to send, and then chose how many times you'd like to send it. This way you'll be able to send, say, 5000 texts with just one click. This helps with the problem of lottery competitions, where each text a user sends counts as one entry into the competition. This application will thus help you greatly increase your chances of winning.
Imagine another scenario where you want to text someone some piece of information but it is currently really late and you wouldn't want to wake that person up with your text. Instead you'd like to text that person early in the morning after they wake up. The only problem is you don't want to wake up early just to text someone, and then try falling back asleep. Having this application will allow your phone to automatically text someone at a specific time of your choosing. This can also help with birthday and congratulatory texts that you might be worried you'd forget later on, so then you could set your phone to send them automatically on those certain days and times.
Problem Context and Forces
The texting aspect of this application should be just as intuitive as any default texting feature for a phone. This will allow users to be able to understand how to use it right away.
The extra options/features should be easy to find and use. The user should be able to input the number of times it wants the text sent, as well as be able to choose the date and time it wants the text to be sent.
Since sometimes a user might all of the sudden become busy while they are texting, there should be some saving feature that keeps a draft of the incomplete text so that the user can finish it later.
It would also be very beneficial for this application to provide some sort of calendar of all the future scheduled texts that the user would like this application to send out. This way the user will have a nice visual of when their texts are going out, and they would then be able to easily organize and edit them anyway they choose.
Solution Sketch
This screen shows the regular texting screen. This should be almost identical to any default texting application on a phone.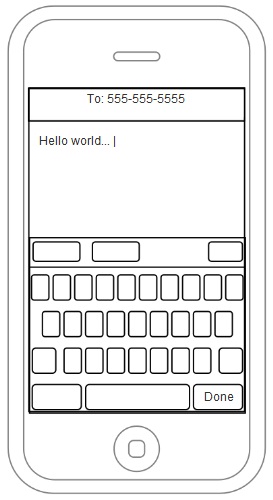 After the user is done typing a message, this screen allows them to choose the number of times they want that message sent, and when they want it to be sent. The user will check the boxes if they want to use those features. If the boxes are unchecked, then the default settings will be that the text is sent once and is sent right when the user presses the Send button.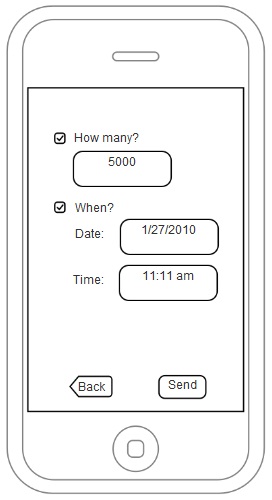 ---