ProjectProposal-MattVaznaian
From CS 160 User Interfaces Sp10
Overview: Checkout!
Checkout! is the newest, hottest application which allows users to keep a running total of what's in their cart to avoid the harsh realization at the checkout that they are spending way more than their budget allows. It may seem like just a calculator, but its functionality allows for much more.
Target user group
The target user group for this application is people who do big amounts of shopping at once for themselves or their families in supermarkets as well as retail stores. Many college students, single working men and women and big families are on monthly budgets, especially when it comes to food shopping. Users want to know throughout their shop the dollar amount of the food or other items in their cart so that they do not go over budget. It is nice not to be surprised by the cash register at the end of a long shop.
Problem Description
Carts get filled with groceries and arms get piled with clothes and throughout the entire process of shopping most people with more than ten items cannot tell the total price of what they have in front of them. Customers walk into a store with a certain amount of money they plan on spending and the entire time it's like playing a guessing game trying to figure out which item will put them over budget. Almost all customers anticipate the final price that shows up on the cash register screen. By then even if they have gone over what they were originally planning on spending it is too late (or too embarrassing) to put anything back. If only there was an easier way to keep track of a running total of what a customer plans on purchasing.
Problem Context and Forces
Users need a simple and fast way to keep a running total of the items they plan to purchase. The app should have extra functionality like being able to add produce or other items with prices based on weight. It is also important for the user to still be able to use his/her phone, so being able to switch back and forth from the app to other parts of the phone is important as well.
The difference between this application and a simple calculator is the added features it gives which are geared towards shopping as well as a more user-friendly interface. A similar app is Grocery Gadget Shopping List, which allows the user to create their own shopping lists with pictures and prices of the items (http://www.grocerygadgets.com). It organizes their products and provides a running total. Ocado also has a similar app which allows the user to set up lists and purchase groceries from the company right through the phone (http://www.ocado.com/webshop/content/information3/iphone).
Solution Sketch
Screen 1 shows the main screen for the application. From here users can press on a recent shop to continue adding to that shop, press New to start a new shop, or press All to see a list of all past shops.
Screen 2 is the result of pressing New from the previous screen. Here the user enters their location and presses Shop! to be taken to screen 3.
Screen 3 is the result of pressing on a recent shop or creating a new shop. Here the user is shown the current total. Add! and Sub! bring up a number pad to enter the amount to add or subtract. Pressing Weight! brings the user to screen 4 and allows them to add products that are priced by weight.
Screen 4 is the Weight! screen where the user adds or subtracts items by weight by entering the number of pounds and how much the item cost per pound, then pressing Add! or Sub!.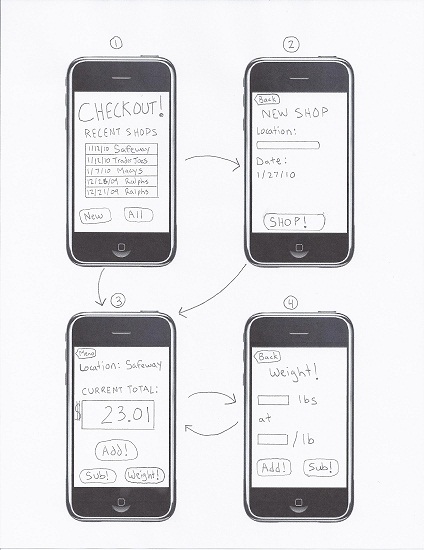 ---