ProjectProposal-DanielNguyen
From CS 160 User Interfaces Sp10
Introduction - Small-Scale Business Assistant
When someone is in need of additional income but has a busy schedule, they often turn to small-scale businesses as a flexible, and often lucrative, way to make money, such as private tutoring, music lessons, or selling baked goods. Although the amount of bookkeeping needed in such a business is very minimal, disorganization can lead to the premature failure of the business.
Target User Group
People from a wide variety of ages and backgrounds often pursue small-scale businesses, such as tutoring, bake sales, and tennis lessons. Many times, these people are amateurs who create their business on either a temporary or part-time scale. In these cases, investing in tools to facilitate everyday business practices is unrealistic because it would draw away from the low profits of such businesses.
Thus, people who charge money for some sort of service or product in order to provide themselves a supplemental income are the target user group for this application. Possible needs for this group are an easy and efficient method for calculating individual sales, a simple way to create an inventory database, means for tracking the sales of various products, and the ability to create accounts for repeat customers. Additional needs of this group may include a low price, simple interface, and efficient system for the application.
Problem Description
The main problem of this project would be to create an application to help the target group run a small business smoothly and successfully. This includes calculating costs, keeping track of inventory availability and prices, keeping client information, and processing orders. A technical solution, especially in the form of a mobile application, would help the target group maintain access to business information (inventory, client information) and process possibly complicated transactions regardless of location, essentially creating a mobile base of operation. The main benefit of this would be to decrease time before updates to data can be made so that they will not be accidentally forgotten, increasing the reliability of the business. In this way, the business would ideally become more efficient and repeat business would be increased.
Problem Context and Forces
As stated before, the target group includes people from a wide variety of backgrounds, which is essentially because almost anyone could develop a small scale business. However, the nature of the project as an application on an expensive mobile device limits the range of the user group to those that can afford such a device and service. This restricts the level of complexity available to the application, but also provides a good goal in terms of reduction or accumulation of complexity.
Another vital aspect contributing to the design of this application is the amount of time required to access and learn the application. One of the main points of this application is to expedite client transactions, so the speed of the application, and thus the simplicity and accessibility of the application, is an important part.
Regardless of design choices, the application will most likely incorporate some sort of calculator, a much needed feature when totals are being calculated. However, whether this calculator is explicit or a "black box" type device will greatly affect the design.
Solution Sketch
The proposed interface is based off of a simple design that is meant to be somewhat intuitive. Similarities between this design and the iPhone main menu are meant help the user feel comfortable using the application.
The proposed main menu: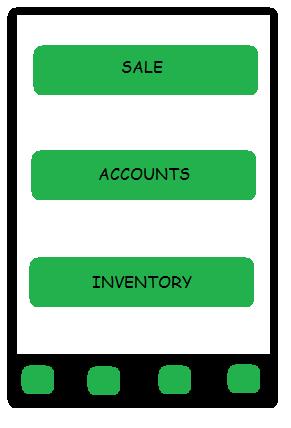 The proposed purchasing, or "Sale", screen: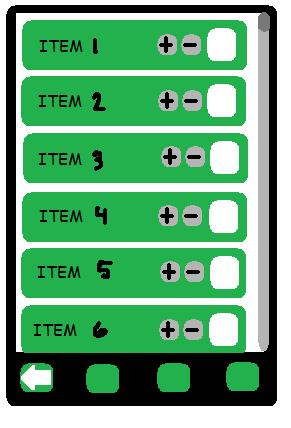 The proposed "Accounts" screen: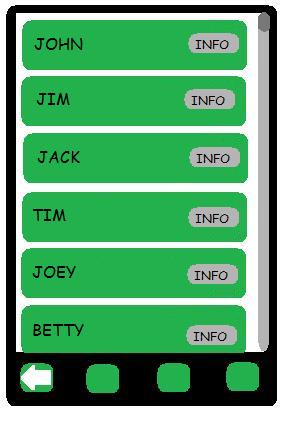 ---