ProjectProposal-ArpadKovacs
From CS 160 User Interfaces Sp10
Overview
iSaveTime is a smart scheduler that helps you go to the right place, at the right time, faster.
Target User Group
The market segment for this application would be people who need to move between different locations on a tight schedule. The main targets would be employees of small businesses such as laundromats or fast food restaurants that provide delivery to homes, repair technicians (eg plumbers, electricians), and possibly even professional delivery service personnel (eg UPS, Fedex, USPS). The system could also be used by other demographics, such as college students attempting to get to classes on time on an unfamiliar campus, businesspeople who are attending multiple client meetings scattered across a city, and even ordinary people who would like to accomplish their daily errands faster. What all of these people have in common is a desire to plan out their routes and schedules more efficiently so that they will have to cover shorter distances, spend less time in traffic, and thereby increase their productivity while saving time and gas.
Problem Description
In our interconnected, modern world, many of us are constantly on the move, yet always seem short on time. By adding a geospatial dimension to our temporal schedules, we can find the optimal/shortest path in terms of both time and distance, and avoid redundancies in our routes plans. Furthermore, the ability to visualize the locations of planned engagements will encourage users to preemptively plan new events close to existing ones, in order to minimize unnecessary movement. Finally, by keeping a record of the run-time of planned routes/schedules compared to actual experiences, users can more accurately predict the amount of time necessary to take certain routes, and adjust their schedules accordingly.
Problem Context and Forces
Point-to-point route optimization already exists in products such as Google Maps and various GPS navigation gadgets. However, as far as I know, these have not been been continuously integrated with a schedule in the manner that I propose for my application, nor has this new concept been realized in any previous iPhone application.
Due to the wide audience of this application, the age and education range of prospective users will have great variance. Therefore we must cater to the lowest common denominator by making the interface easy and intuitive to use, and remove or optionally hide unnecessary detail. After entering the schedule, the program should also be as automated as possible, since many jurisdictions prohibit driving while texting on portable electronic devices. This would involve some sort of text-to-speech functionality, so that the user does not have to check the display for scheduling or directional information.
There are various optimizations that are possible with a scheduling system like the one I have described. For example, in right-hand traffic system countries such as the United States, it is much faster to make a right-hand, small-radius turn at an intersection than to make a left-hand, large-radius turn in the face of oncoming traffic. Therefore all destinations should be connected into a clockwise-running loop if possible, to minimize the number of left-hand turns.
Solution Sketch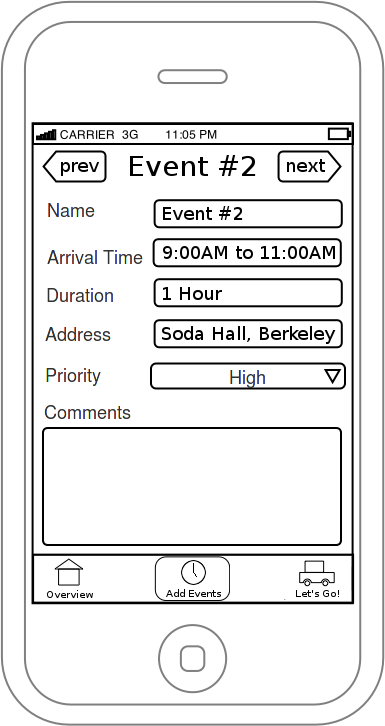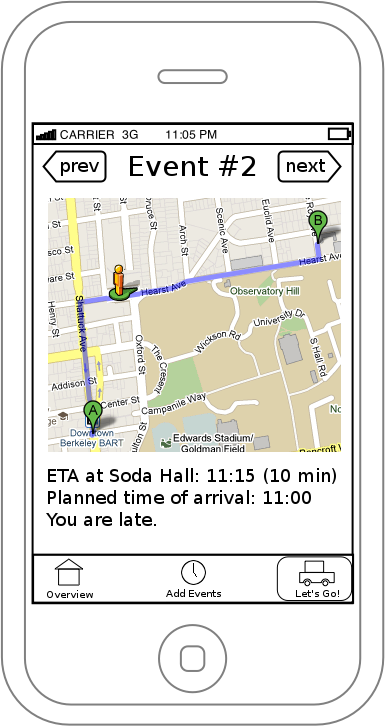 Prior Work
This proof of concept shows that it is possible to plot events with specific locations on a map (this demo does not seem to work anymore)? http://www.webmonkey.com/blog/Killer_Mashup_Plots_Your_Schedule_on_a_Google_Map
It is also possible that UPS, Fedex, etc may already have internal systems that optimize delivery routes, but these applications are not available to the general public.
---