Contextual Inquiry-Group:Metal Pony Z
From CS 160 User Interfaces Sp10
Group Members and Contributions
Linsey Hansen: Attended the Scout Troop 19 and assisted with interviewing. Wrote Target Users, and drew Planning Trip Meals.
Raymond Lee: Attended the Scout Troop 24 meeting and assisted with interviewing. Wrote Problem Solution/Overview and Analysis of Approach.
Hugh Oh: Attended the Scout Troop 19 and assisted with interviewing. Wrote Task Analysis Questions and Analysis of Tasks.
Kathryn Skorpil: Contacted the troop leaders of Troop 19 and 24 to arrange the meeting and attended the Troop 19 meeting, and assisted with interviewing. Drew UI and other task scenarios.
Peter So: Attended the Scout Troop 24 meeting and assisted with interviewing. Wrote Contextual Inquiry and Analysis of Tasks.
All group members assisted with writing/editing wiki content.
Target Users (8 pts)
Since this is going to be a Boy Scout application, our target users for this application are Boy Scouts as well as people associated with them such as their parents and troop leaders. Originally, we wanted to go with an amateur survivalist application of sorts, and while trying to think of untapped user groups we eventually came to Boy Scouts and from there shifted our focus to a Boy Scout application. We interviewed two different troops, and within those troops we interviewed a total of about thirty people, so instead of giving a background on each person, we will generalize our customers based on their category.
Scoutmaster
Background: The Scoutmaster is the adult leader of the troop. He manages both the scouts and parents to organize events and is responsible for the well being and advancement of the boys. He also keeps a copy of all the troops records on file and is the main contact with the Boy Scouts of America officials.
Likes:
Having an organized way to keep track of scout progress
Organizing group activities
Upholding scout tradition
Dislikes:
Anything that could give away a scout's personal identity (i.e. last names)
Having Technology on camp-outs/trips
Priorities:
Helping Scouts obtain badges
Keeping the scouts safe
Keeping things organized
Scouts
Background: Boys interested in the outdoors, community service, and connecting with other scouts. Scouts typically have weekly meetings to fulfill requirements for the scouting program. Their ages range from 11 to 18 years old.
Likes:
Getting badges
Going on trips
Building things hands-on
Singing songs around the campfire
Dislikes:
Not having a way to keep track of eating preferences (i.e. Vegetarians on outings not having vegetarian food options)
Showers
Doing paper work
Priorities:
Need a more efficient way to keep track of badge progress.
Need a better way of sharing their dietary needs and preferences.
Would like a simple way to know who is going to what events.
Parents
Background: Have kids in Boy Scouts, some have been Boy Scouts themselves. They attend troop meetings with their children and occasionally go on outings with the Boy Scouts.
Likes:
Helping their kids earn badges
Some enjoy helping out with troop activities
Dislikes:
Not always knowing their routes when in charge of driving scouts around for fundraising
Poorly planned outings and meals for their children.
Priorities:
Need a way to keep track of their child's fundraising route.
Could use a way to track their child's progress on badges.
Would like a simplified way of keeping track of upcoming troop events
Problem and Solution Overview (2 pts)
Currently, Boy Scouts track large amounts of information on paper which can sometimes be inconvenient. Our app seeks to address this problem in several aspects of Boy Scout responsibilities. For example, Boy Scout troop leaders currently use a matrix on a single large piece of paper to track badge advancement for everyone in the troop, but this chart is not something all the boys in the troop have easy access to. The scouts want to be able to easily show off their achievements to their friends, and to have a way to easily see what they need to do to achieve their next ranking, on the go. Our iPhone app would provide a personalized badge tracker that not only displays earned and unearned badges, but also tracks badges being earned-in-progress. Other paper-based tasks that boy scouts must perform include menu planning, referencing and modifying event rosters, and consulting maps of fundraising locations. Our app will effectively streamline these tasks and make them portable on the iPhone.
Contextual Inquiry - Interview Descriptions (10 pts)
We attended the weekly meetings of two Boy Scout troops (Troop 19 and Troop 24) in the Berkeley area to conduct interviews of our target user group. To schedule the interviews we found the contact of the Scoutmaster, adult in charge, on each troop's website and received permission to sit in on their next weekly meeting. Before setting off to the meetings our group met to develop a consistent presentation of our project and write up a list of questions directed to scout leaders and to the actual scouts to better understand their troop dynamics and determine which would be the best target group for our application.
Each troop presented a different interview experience. The first troop, Troop 24, was very open to allowing us to interview individual scouts and scout leaders one-on-one while Troop 19 was more comfortable with an open forum discussion about our application. We asked our prepared list of questions in both interview formats and found we received more detailed answers from talking with individual scouts as they could explain their needs at length and provide feedback to our suggestions of features to help narrow in on the scout's most essential needs.
We observed both scout troops had a similar structure and format to their weekly meetings: open with a formal flag ceremony, hold troop announcements and patrol reports, break off into various badge works, then close with another flag ceremony. Both meetings were conducted mostly by the boys, led by an elected Senior Patrol Leader and assisted by one of the parents called the Scoutmaster while the other parents passively observed the meeting. The rest of the scouts are organized into small groups called patrols and are led by an elected Patrol Leader. We interviewed these elected Patrol Leaders as well as the Scoutmaster as we identified them as our most likely users of our application.
All of the people we interviewed agreed it would be helpful to have an application to quickly look up requirements for merit badges as they felt it a major inconvenience to have to carry a large stack of books with them. The scouts wanted functions that would track their individual progress for all the badges they were working on as well as a way to see what their friends were working on. They wanted a way to keep track of meeting minutes, plan outings and meals and better carry out their annual fundraisers with a type of map overlay to keep track of regular customers. Sitting down with the Senior Patrol Leader of Troop 24 was helpful as he showed us examples of the troops functional documents such as a weekly meeting planner and troop calendar of events. He was very receptive to the idea of having an iPhone app to keep track of the rest of the scouts as well as his personal advancement. The Scoutmasters were more concerned with functions that could keep track of who was attending which events, keep track of parent volunteers and which events they would help out at and easy access to a calendar of troop events. The Scoutmasters also expressed a concern for privacy within the application and made note that most electronics were prohibited during camp outs as part of Boy Scout regulations. This limits the use of our application to scout meetings and non-camp out outings, but we still found that there was a a strong need for a way for scouts to manage their personal badge progress on the go.
After each interview we thanked the Scoutmaster for allowing us to attend their meeting. Both troops were excited to hear we were developing an iPhone application for the Boy Scouts and wanted their input.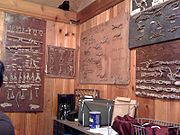 Suggestions from Troop 19
Map of location of other troops
"Camporee" section to check the status of awards and achievements from other troops
Trivia Quizzes for things in the guide book (like what to do if you touch poison ivy, etc.)
Tracking merit badges
Packing list for trips
Food menus (remembering that some of the troop members are vegetarians)
Medical/allergy information for troop members
Copy of handbook
Like online google Calendar but allowing parents to sign up as volunteers
No personal information because we are dealing with children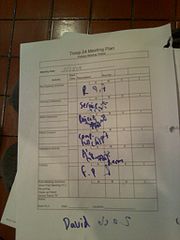 Suggestions from Troop 24
Easy camp foods to prepare
Meeting plans (Raymond has an image of one)

Dragdown menu for activities: knots, merit badge, cooking, safety, service, rank advancement
Name raffler for duties

Rosters to track participation at events and meetings
Fundraiser app

List of locations that were successful
Phone numbers/names associated with houses on map

Badge Tracker

Timeline of completion
Sharing friend's advancements

Activity calendar, with name of person associated with event planning
Blue cards
Knot instructor

Step-by-step image instructions would be superior to BSA handbook
Task Analysis Questions (5 pts)
Who is going to use the system?
The Boy Scouts. More specifically, the individual scouts and troop leaders.
What tasks do they now perform?
Tracking badges: keep track of badges inside of personal scout handbooks and on troop-wide poster.
Working together on badges: consulting with counselors and fellow scouts on how to achieve badges.
Running a troop meeting: the scouts run their own meetings according to meeting planners, with handwritten notes.
Logistical planning of fundraisers: determining where to go and referencing locations that were successful in the past.
Organization of outings (including budgeting): the scouts plan the logistics of their outings in small groups.
Attendance (i.e. during meetings and outings): one scout (the Scribe) keeps track of attendance of the entire troop in his log book.
Organization of meals (with special dietary needs in mind): scouts plan meals with a budget and certain dietary restrictions in mind, typically using previous meals as a reference.
What tasks are desired?
When interviewing, we saw a common theme among the troops. Individual scouts wanted a badge progress tracker to quickly reference their personal advancement, meeting/outing planner and roster, and a better way to organize meals. Since they had so much influence over meal plans, scouts wanted a way to plan meals that kept everyone's dietary needs in mind. Troop leaders expressed a desire for something to help with planning outings and fundraisers mainly because there are so many things to keep in mind when planning one of these events.
How are the tasks learned?
Fellow boy scouts teach newer boy scouts procedure and protocol. The troop leader's main responsibility is to supervise but for the most part, in order to teach the scouts life lessons, the more seasoned scouts teach the incoming scouts how to do the previously stated tasks.
Where are the tasks performed?
Troop meetings, door to door fundraising, merit badge fairs, outdoor outing events. While most events are held outside, most tasks are done during meeting. All logistical planning is done during meetings.
What's the relationship between user and data?
The user is the individual boy scout. The data is all the notes that they write down and information that they must keep track of. The relationship between user and data is all data is generally user-generated and personalized to the individual scout or the entire troop. For example, in the Boy Scouts, rank and achievement are represented in the form of badges. Each scout meticulously plans and works hard to earn each badge to display their personal accomplishments and life lessons learned. The badges are a form of personal data that the scouts must keep track of.
What other tools does the user have?
On hand at the meetings:

Blue cards
BSA (Boy Scouts of America) handbook
Binders
Pen
Paper

Tools used outside of meeting:

Microsoft Excel
Google Calendar
How do users communicate with each other?
Users communicate with each other primarily through face to face interaction at troop meetings and events. Records and plans are kept in a binder for any scout to reference. Badge progress varies from patrol to patrol but usually a poster is used to mark progress.
How often are the tasks performed?
The tasks that are prone to generate data usually occur at weekly troop meetings, where boy scouts are expected to plan meetings, configure food menus, deal with rosters, and refer to their personal badge/rank advancement. Outside of troop meetings, boy scouts might occasionally refer to their personal or friend's advancement for fun, or be conducting fundraising activities. In short, boy scouts may be using our app at least weekly.
What are the time constraints on the tasks?
Much of the organizational functionality of our app is based on time sensitive tasks that the boy scouts must perform. For example, menu planning must be completed prior to the event when the meals will be consumed. The event rostering must be completed in time before actual organization of the event.
What happens when things go wrong?
Since Boy Scouts is a boy-run organization, when things go wrong on the aforementioned boy scout tasks, leaders and parents have to step in to rectify the problem.
Some consequences include cancellation of / poorly organized events, revocation of abilities, notification of parents, ejection from the organization.
Analysis of Tasks (10 pts)
Easy Tasks

I want to keep track of which people are going to each outing and who are the volunteers. It would be nice to be able to check off a list of names to take attendance for several occasions i.e. when loading cars, at scout meetings, etc. Normally, leaders would take attendance from memory or use a list they must with them at times. However, this could be improved by pulling up a quick list of people attending the outing that can be checked off. This list could include phone numbers and keep track of "buddies" setup through a buddy system to better manage accountability.
I want to keep track of my fellow scout's progress through the scout ranks and merit badge completion. If I'm having trouble with a particular requirement I can find another scout who already has badge to help. This is typically done by word of mouth or sometimes troops will have a large matrix poster of each scout's progress that is posted at weekly meetings. A mobile app would make this matrix accessible outside of the weekly meetings and provide quicker feedback to scouts who want to see what badges their friends are working on or have completed.

Moderate Tasks

I want an easy way to check the requirements of the merit badge I'm currently working on at any time. There are so many requirements it is hard to keep track of them. I will often be at a meeting with some extra free time and want to get a requirement out of the way but don't always have my merit badge book with me. A mobile app would be great to store merit badge requirements to look up while on the go since I carry it with me most of the time.
I want to be able to outline a timeline to complete badges with my counselor. Keeping track of individual requirements can be very difficult, especially when trying to pursue multiple badges at a time. Currently I need to carry my merit badge book with me at all times in order to look up the requirements. There is currently no way of searching across merit badge requirements to see which could be done simultaneously. A mobile app would be helpful to have when consulting with a counselor at a merit badge fair to plan out which merit badges to work on at once.

Difficult Tasks

When I'm planning a menu with my patrol at a scout meeting I have trouble coming up with food ideas, remembering who has special dietary needs and making sure I'm within my budget on the go. For each upcoming event, I have to plan a meal schedule that the patrol wants to eat while still staying within budget and respecting special dietary needs. Being able to keep track of what foods we can and can't have while keeping in mind budget constraints is an extremely difficult task. At weekly meetings these food schedules are created by the scouts using pen and paper. A mobile app would be helpful to view the cost of each recipe for the meals and iterate through different menu ideas and would calculate the approximate total food cost for the trip.
I want to manage a large group of people to distribute fundraising materials throughout a neighborhood in an organized manner. An example would be during Christmas tree pickup service, different groups of cars often confuse routes and will cover the same houses twice. "It would be nice to have a mobile app to assign each car to a particular part of the neighborhood so they don't waste time with double coverage." Currently, routes are highlighted on paper maps and given to the drivers. A mobile app has the possibility to show each car route but also the progress of each car on their respective routes and provide additional information of which routes had good customers and other neighborhoods to avoid.
Interface Design (20 pts)
We had many wonderful suggestions for what we could include in our applications, but we decided to only include the badge tracker, event roster, fundraiser helper, and menu planner for several reasons. The badge tracker appeared to be the most exciting thing to both troops we interviewed. Although there are some similar ones in the app store, none of them allowed for sharing with friends online, which seemed to be something they wanted to be able to do. The event roster, fundraiser, and menu planner were things that during their meetings they seemed to need help with. For example, Troop 19 went to Mount Shasta over the weekend but they were lacking vegetarian options on the trip and were discussing how it made it difficult for the vegetarians to eat anything. During the interviewing, we asked them the how they decided to create their meals, and they mentioned that they would meet all together and create the meals based on previous recipes and a budget. Although a knot tying trainer was something that both troops wanted, there are already multiple applications in the app store that can already train them.
Functionality summary (what you can do with it)
Badge Tracker: Currently, scouts track their badges and badge requirements via pen and paper. We want to make this process consolidated and portable.

Progress tracking on badges
Badge completion planner and timeline
Different views on badges

Event Roster: Currently, scouts rely on pen/paper and their troop's website for attendance tracking. We want to make this process more portable, and allow the troop to consult outing rosters at all times.

Track scouts and parents attending event
Log attendance

Fundraising Helper: Currently, Boy Scouts mark fundraising routes on paper maps and would like to keep track of which houses were good customers in the past. We want to provide this functionality on an iPhone so that the information can be adjusted easily.

Route planning overlay on map

Menu Planner: Currently, Boy Scouts plan their own meals on paper and from scratch. We want to provide recommended recipes with associated costs per meal for budgetary logging.

Track recipes, special dietary needs
Food inventory/cost
User Interface Sketches and Descriptions
Main View
The main view would feature all the different aspects of the app which includes the Badge Tracker, Fundraiser, Food Planner, and the events roster
Badge Tracker
The badge tracker will be a tab based controller with navigation views
The different tabs will be for unfinished badges, completed badges, and friend's badges
Selecting a badge in unfinished and completed badges will take you to a more detailed view of an individual badge
Fundraising
The fundraiser will be a tab based controller with navigation views
The different tabs will be for maps and groups
The map view will highlight blocks in different colors for different car groups
The groups section will allow for inputting regions to be covered
Menu Planning
The menu planner will be a tab based controller with navigation controllers
The tabs will include views for menus, recipes, and dietary needs
The menus will have an area to input meals and costs for each meal
The recipes will include views to add recipes and their costs/person
The dietary needs will list any special needs people may have (vegetarians, no wheat, etc)
Events Roster
The events roster will be a tab based controller with navigation views
The different tabs will be for organization by event or by person
Selecting an event/person will bring up options to add events/people
Three Example Tasks with Sketches
Here are some sample sketches of scenarios where this application might be used. The first if a troop member wants to check on his friend's badge status. The second is when the troop needs to plan their meals for their trip and would like to know about how much it will cost them. The third is when the troop is fundraising and needs to be able to easily assign cars to different neighborhoods.
Tracking Your Friend's Badges
Planning Trip Meals
Assigning Neighborhoods for Fundraising
Analysis of Approach (5 pts)
Our application especially takes advantage of the mobility of the iPhone. Boy Scouts are an active target user group, and do not usually have pen and paper, their handbooks, or their note binders handy. An iPhone is able to store almost all of the dynamic information that they need to keep track of, and can even store static information such as information from the Boy Scout handbook. Information sharing between Boy Scouts can be facilitated by networked iPhones, enhancing social interaction and overall camaraderie in the troop. During the interview, it was particularly emphasized that the badge tracking functionality is much more convenient to have on the go rather than on the computer or as a piece of paper.
One potential solution is the original solution, which is using paper and pencil with note binders to keep track of all information. However, this is inconvenient and Boy Scouts typically cannot carry these items with them at all times like they could with an iPhone.
Pros:
Boy scouts are on the go, and their information should be too.
Could supplement the traditional form of storing information in heavy and inconvenient binders.
Easy sharing of information between boy scouts.
Potential integration of information with website.
Cons:
iPhones may or may not be suited for some outdoor situations.
Boy Scouts typically do not allow electronics at camp-outs
Attributions
---