Contextual Inquiry-Group:Group F
From CS 160 User Interfaces Sp10
Group Members
Introduction
Initially, our project targeted general physicians. Ten phone calls and thirty-something emails later, we soon realized that finding doctors to interview and working around their schedules was a rather difficult process. We decided to refine our focus to a much more accessible user group. Luckily, one of the group members had a animal clinic right by his house. One five-minute phone call was all it took to schedule interviews with three veterinarians. The enthusiasm they showed for our idea was all it took to shift our target to a new user group: veterinary emergency doctors who treat small animals (e.g. cats and dogs)!
One of our group members, Kevin Tham, dropped the class on the Friday before this assignment was due.
Target Users
We decided to interview three vets that worked at the Berkeley Dog and Cat Hospital. Due to time constraints we could only interview vets at one hospital, but we chose the Berkeley Dog and Cat Hospital because it was an average size animal hospital in the area with ten vets and three specialists.
A (General Practice Veterinarian)
We decided to focus on two of the most common veterinarians: General Practice and Emergency. We decided not to include specialists in our interview. The reason behind this is simply because there are much fewer specialists (radiology, dermatology, etc) than general practitioners and emergency vets, and we anticipate them to use the application more.
She went to UC Davis for both undergrad and veterinary school, and joined Berkeley Dog and Cat Hospital in 2007.
She works the standard hospital hours (8am-6pm) and has her schedule filled so that she has half hour breaks between appointments, in addition to an hour lunch break. She typically uses those half hour breaks to work on cases that they are currently working on and follow up with owners on the conditions of pets being kept at the hospital. Most of her cases are very standard and don't require extra research on her part. She also handles some emergency cases during the day (a couple times a month), but they usually try to get the owners to schedule an appointment. If she has any trouble in diagnosing or prescribing a treatment, she usually can resolve it by asking another vet that is in the office that day, and getting a joint opinion on it. Their hospital is quite modern - exam rooms have computers in them to refer to their internal scheduling/records system. She acknowledges that there are online resources, but doesn't use them very much simply because her work usually doesn't necessitate it.
B (Emergency Veterinarian)
The second main group is emergency vets. They differ from general vets in that their cases come in the door without any prior notice.
She did her undergraduate studies in Chemistry/Biology at the University of Arizona. She completed clinical training at the University of Pennsylvania. For the most part, emergency vets get the same training as general vets, they just get different hours. She is the youngest of three emergency vets at the hospital.
She staffs the hospital after hours (6pm-8am) and is the only technical staff in the hospital during those times. Because she doesn't have a set schedule like normal doctors, she has some down time resulting from lack of emergency cases. She uses resources like the Veterinary Information Network in the down time (provides private online network for vets to ask questions, share news, etc). She also refers to the VIN message boards at times after hours when she is alone in the hospitals to see other doctors' opinions on similar cases to the emergency cases she might get. In general, she believes that the whole vet community is generally collaborative and genuinely helpful whenever someone poses a question.
C (Emergency Veterinarian)
From vet B, we learned that the nature of emergency vets are that they can have a lot of down time, followed by complicated cases that they have to resolve in a short period of time. This gives them both more time and more of a need to look at online collaborative resources like VIN and either contribute to or take back from the knowledge pool. Because we found that the needs of the emergency vet were more concrete and easier to address with a mobile app, we decided to interview another emergency vet for our last interview.
He is the most senior of the three emergency vets at Berkeley Dog and Cat Hospital. Moved to the Bay Area recently (2004) from New York.
He loves technology and personally has an iPhone. He also finds it convenient to share things like graphs and xrays in jpeg or pdf format with coworkers when they need help on diagnosis or treatment plans. Even though the format that he uses is just plain email, he says he likes using his mobile phone because of the convenience of not having to be sitting down at a computer - he can continue moving from room to room to do his work routine. Finally he also mentioned a tool called 5-minute-consult that works on the iPhone and provides reference information to diseases/symptoms.
Problem and Solution Overview
Emergency doctors treat the widest array of patients and have little time to prepare (ie, look up information on breeds, symptoms, treatment, etc.) due to the very nature of their jobs - treating unexpected emergencies.
Our solution is a mobile social network for veterinary doctors where they can ask questions on disease diagnosis and treatment, and receive answers from other physicians in real-time. Each reply has a rating associated with it – given by other doctors who read the reply. Each physician also has a profile that includes the amount of questions he's answered and the average rating of his answers.
Contextual Inquiry - Interview Descriptions
We conducted our interview at a veterinary hospital afterhours. We had a list of questions planned beforehand that asked the veterinarians, and we also asked follow up questions about their responses we found particularly interesting.
For our contextual inquiry, we interviewed a general practitioner veterinarian and two emergency veterinarians. First the general practitioner gave us a tour of a regular patient's room while describing what kind of tasks she would usually have to do. We spent time after the tour asking anymore questions we had. We found out that usually the general practitioners would prepare for a patient they are about the treat by looking at a very brief description of the patient including breed, sex, age, name, and problem. From that they then take a look at the actual animal and decide what types of tests to do on it, if any, to come up with a conclusive diagnosis. These can include tests such as blood tests or x-rays. Also if a case is too complicated or not completely conclusive, they may keep the animal, send the animal to UC Davis to see a specialist, or consult any nearby veterinarians for advice and their opinions. Lastly, each "normal case" patient takes about 30 minutes to treat, and the general practitioner gets a 30 break in between each patient that they can use to call owners, write some records, and look up blood work and x-rays.
On the other hand, the emergency veterinarians that we interviewed gave us pretty similar responses to each other, and after giving us a tour of the emergency room, they told us about a few different tasks that they perform compared to the general practitioners. First of all, since these veterinarians are always on call and take after hour shifts, they cannot prepare for a patient because they never know when they will arrive. However, because they never know then a patient will come, they may also have a lot of free time in between patients. Also the cases they get are usually much more complicated than the general practitioners'. As a result, their "normal patients" usually take between 30 minutes to an hour to treat. If it's a more complicated case, they might take longer or even request to keep the animal in the hospital for more lab tests or other diagnostics. Furthermore, they also sometimes end up calling other veterinarians over the phone to ask for advice late at night. One emergency veterinarian mentioned she had to call someone in a different state past midnight. But besides these differences, emergency veterinarians usually perform the same procedures as general practitioners when treating a patient. When an animal comes to the emergency room, they also take a look at the animal and the problem and then decide on what tests to do or procedures to perform. Sometimes it might just be the usual blood work and x-rays to come up with a diagnosis, but other times it might involve actual surgery.
One unique point that the general practitioner mentioned was that although she knows about online resources for diagnosis and treatment, she doesn't use them very much. We thought this was interesting but also very understandable since she also mentioned that about most of the cases she sees are pretty standard and don't require much extra research. And usually if she doesn't know too much about something, most likely someone else near her will. A unique comment that an emergency veterinarian made was that they do use resources during their down time, such as the Veterinary Information Network which provides a private online network for vets to ask questions, share news, and information on diagnoses and treatments. This was also interesting because while general practitioners don't really use online resources, emergency veterinarians do, which seems to allow our application to be much more useful to the emergency veterinarians. Again this makes sense because the emergency veterinarians usually see pretty complicated cases, have no one to ask, and might have a lot of free time to look stuff up on a computer. Another emergency veterinarian also mentioned that other vets in the hospital currently send digital x-rays to his phone when they want his opinion on it. He said he preferred the convenience of using his phone over the hospital desktops. He demonstrated to us the difference of convenience to us by showing us how he had to be at a desktop set up, log into the desktop under his account and then check his email afterward. In contrast, all he had to do to see the images on his phone was use his email app.
Task Analysis Questions
Who's going to use the app
The users are veterinary emergency doctors who treat small, non-exotic animals (such as dogs and cats). They have medical background and emergency medicine training. Emergency veterinarians usually have no knowledge of upcoming cases and therefore preparation work cannot be done beforehand. They work after hours and because of the smaller nature of animal hospitals, they often are the only member of technical staff in the hospital at that time.
Task they now perform
Tasks that are performed by emergency veterinarians include keeping records of pets (eg, breed, age, sex), dealing with unusual and urgent cases, and doing tests for further diagnosis (eg, x-ray, blood test). When they need help on diagnosis or treatment, they might use a reference tool on PDA or a mobile phone called "The 5 Minute Veterinary Consult", search through or post on the message boards on Veterinary Information Network (VIN), send digital x-ray images to other doctors via email services on phone, or call other veterinarians to answer urgent questions when dealing with difficult cases at emergency hours. Finally, they have to explain to owners the prognosis for a certain treatment - the chances of success, how long the pet needs to recover, and how much it will cost.
Desired Task
Getting instant answers from specialists was mentioned multiple times by the veterinarians, because although they can use the discussion boards on the Veterinary Information Network (VIN), their question might not be replied to until many days later. One way they saw this problem was that it took a long time to transfer files over and post them to VIN's message board. They said that they would need a way to easily post standard information like breed, age, and sex of the animal, symptoms, and other diagnostic information like lab results, x-rays, or graphs to online networks for them want to use the service more.
How are the task learned
Emergency veterinarians have medical knowledge and training. They received high level education including 4 years of undergraduate and 4-5 years of medical school and clinical training. Because of their extensive training, most of the cases that they see are things that they can identify and prescribe the treatment for instantly. In addition to diagnosis/prognosis-related experience, they also need to know how to perform lab work such as blood tests and use x-ray machine. This knowledge is gained either at school or learned from daily experiences and practices.
For using an iPhone as a tool to post questions, the users need to know how to do text entry and download lab results or images to the phone. The training should be minimal and should have a very similar interface to systems that they are used to.
Where are the tasks performed
Emergency room is quiet and lab-setting. The pet owners might be around when tasks are performed.
What's the relationship between user and data
The data should not be stored in local machine for security issues although the uses should be able to access the data from different machines. Password is required to access the data. An alarm such as vibration or beeping can be added when new responses are posted to user's question.
What other tools does the user have
Emergency veterinarians have computers around them, and they can look up reference online (e.g. VIN) or send out emails for help. Furthermore, vets can use phones to call other vets for help, although in this case and in the email case, they are limited by the vets they can look up. Another useful, but static, reference tool is the "5 Minute Veterinary Consult" that can be downloaded to many PDA devices or mobile phones.
How do users communicate
During emergency hours, there are no other veterinarians in the hospital, so emergency veterinarians usually seek help via phone or emails, unlike general practitioners who can talk to each other in person during regular hours.
How often are the tasks performed
How often the tasks are performed is based on what cases come in, and depends on the season. They said that in a typical busy off-season night they might only see two to four cases. In the high-season, they might see between five and ten cases in a night.
They added that about one in three of these cases would be more uncommon, where the vet would have trouble diagnosing or prescribing a treatment off the top of their head. In this case, the vet would first refer to their static reference tools, like "5 Minute Veterinary Consult", and if that didn't give them the answer they were looking for, try searching VIN for a similar case/result or calling another colleague to ask for advice.
For a case that spans a longer period of time (eg, an animal that the hospital keeps overnight for treatment or tests), the emergency vet would be able to actually post their question to VIN and wait for a response, or do something similar with email. It varies by season again, but the animal hospital usually keeps two to three animals overnight.
What are the time contraints on tasks
There are very strict time contraints on all of our tasks. Since emergency veterinarians might need this application in time critical situations, for example a life or death situation, then this app needs to run efficiently. Asking a question should take no more than a few minutes to do. This includes uploading attachments and describing the patients condition. This is because the vet only gets about 30 minutes with each patient before they have to make a diagnosis. Sending a response should also be fairly quick. They should also be allowed to do any task they want on the app any time they want, in any order.
When things go wrong
A few things that can go wrong are if a question gets no or very few responses and if other users give incorrect responses. There are a few ways we deal with and prevent these problems. In order to prevent questions from getting very few responses, we try to get as many people to use the app as possible. Also we will design the application to allow the user to filter the questions with fewer responses to be viewed first. This will help encourage more responses. In order to deal with incorrect responses, we will not only have a response rating, but also a user profile. The response rating will be indicated by how others feel about the correctness of the response by voting with a '+' or a '-'. The more pluses a response gets then the more likely it is to be correct. Also users will have their own profiles telling other people what they specialize in, how many years of experience they have, and how many questions they've responded to correctly. This will give users an idea of how well qualified the person responding is.
Analysis of Tasks
Rate others' responses – Users will be able to rate others' responses from the response screen. If they agree with an answer given, they will rate it with a positive vote. If they don't agree, they'll use a negative vote. These ratings are anonymous. The only thing that's displayed near each response is the score. This task is easy because all it involves is pressing a button. Either the user gives the response a positive rating or negative rating. Also some users might find it too much of a hassle to post and respond to questions so rating other responses gives them a much quicker and easier way to give their input.
View questions/responses – After asking a question, users will be able to view the responses as they come-in in real-time (more specifically, the app will ping the server every 30 seconds or so). When a new response comes in, the phone will make a noise or vibrate. Alongside each response, there will be a rating (left by other doctors who read the reply), and the name of the doctor. By clicking on the name, the physician's profile will come up. Viewing responses is an easy task because it requires little action from the user, and every user will do it. After the question is posted, the user is taken to the responses screen (which will initially be empty). The user can leave the phone on their desk, and they'll be notified when a new response comes in. Every time a new response comes in, the screen is updated without the user having to do anything. Users can also view others' questions and associated responses and filter through them to see if their question has been asked and responded to before. The main screen of the application will have a list (ordered by newest) of questions that have been asked. The users will tap on the question, and see the response screen (same as before). Currently, it can be quite difficult to get a timely response to an inquiry for emergency doctors. As one of doctors we've interviewed told us, there were times when she was calling other physicians in different state at 3 in the morning. Clearly, it can be quite difficult to get an answer especially during late shifts.
Ask question - Users will be able to ask questions from their iPhones. In the question, they'll include the breed, age, and sex of the animal. This task is easy to perform with our application because the main screen will have a prominent button that leads them to the post screen. The post screen itself will consist of a few text fields labeled appropriately with a small description of what to put. This task will be a medium task since there will be some users that won't participate in it. Some might just want to respond or look at other people's responses and rate them. In most cases, they can't ask a colleague because they are the only ones there. Generally speaking, asking isn't the hard part – getting a quick answer is difficult.
Answer questions – Users will be able to answer questions posed by other physicians. They will be able to answer questions from the response screen. The response screen will have a button at the bottom of the list that will launch a new window. This is a medium task for the same reason as the previous task. Some users might only use this application to ask questions, and might be too busy to fully respond to other peoples questions. Also most of the time, their responses might already have been given by another user, so then all they have to do is rate a positive next to that response. It's also medium because it involves analyzing the information provided and giving an appropriate answer based on medical experience.
Create a profile – Users will be able to create an online profile, listing their credentials, background, years practicing, etc. As mentioned above, every time they post a reply, other users will be able to click on their names to view this profile. This task is difficult because the user will first need to be educated on what the profile is, where it will be displayed, who can view it, etc. This explanation will most likely be in a help file. Also we plan on making the creation of a profile optional because we plan on being the ones who give out the login accounts to our users. This way every user will be a credited emergency veterinarian, but not every user will fully update their actual profile. Currently, this task is akin to creating a profile that will be in a brochure or online website.
Attach to responses – Users will be able to attach image files, and audio files to questions they post. The images can be taken with the iPhone camera or can be transferred from a computer (in the case of digital x-rays). The attachments will serve to clarify the question. Users will be able to do this after the question has been posted. The rationale for doing this (as opposed to having them attach it when they post) is the user may have a question that they want to post before the x-ray has been done (and the x-ray isn't really necessary). So they have the option to attach it later. Also, we want to keep the post question interface very simple and straightforward – consisting only of text fields. This task is difficult because it involves either taking a photo first or transferring an x-ray to the iPhone first. Currently, this task can be done via fax or email. Also since emergency veterinarians only occasionally take x-rays and other image files, not all users will make use of this feature.
Interface Design
Summary
This iPhone application allows users to ask questions, add audio or image attachments to questions, browse others' questions, view responses, rate responses, create a profile, and view others' profiles.
Description
Initial Login - When the user first opens our application, a login dialog box pops up instructing the user to enter an email and password. Once they enter a valid login, their information is saved on the phone. Whenever they post, this information will automatically be included in the server request. The users get this login information from us. We'll individually create account for each doctor who joins our service to assure that the only users are doctors.
Main Screen - The main screen consists of a list of question titles sorted by newest at the top. Every 30 seconds, this list is refreshed. Users can filter the questions by animal type, disease, and other options (similar to a guided search) and sort the question by least number of answers. There is also a Post Question button that's prominently displayed. Tapping this button will bring users to the post screen. Tapping a question in the list will open the Response screen for that question. Finally, there is a settings button, that takes users to the settings page.
Post Question - The post question screen will consist of the following textfields: title (this will be diplayed in the main screen question list), further details, animal, breed (if applicable), age, and sex. There will also be a checkbox "Attachment." If this is checked, the Attachment screen will open after the post. Above each text box, there will be a description of what to put into the field. When users post a question, they will be taken back to the main screen, where they will see their newly posted question in the list at the top. (If they checked the attachment box, they will be taken to the Attachment screen instead). By bringing the user back to the main screen, this reminds them that the newest questions get added to the top, and this encourages the user to view other questions in the list (and hopefully gets them to reply to a few).
Attachment - The attachment screen will let users upload image and/or audio attachments. The screen consists of an attach button that when tapped lets users browse their iPhones for image or audio files. When they select a file, it will appear in the list below. When they are finally ready to upload, they will press a button that, when uploading is done, will take the user to the response screen. The response screen shows the attachments that the question has along with the replies. The user is taken back to this screen to confirm to them that the attachments were uploaded successfully.
Answers - The response screen shows the question and a list of replies to that question. Under the question, there is a list of attachments. The user can click on the attachment to download and open it. Each reply includes the rating of the reply, and the doctor's name. If the user taps on the name, the doctor's profile will open in a new window. Users are able to rate a reply by tapping the reply text, and selecting the + or - icon from the dialog box that opens. Responses are sorted in chronological order (with newest at the bottom). This is done to make reading of the responses easier (since we're used to reading from top to bottom). Also, this allows for users to reference posts by other users in their replies. At the bottom of the reply list, there is a Post Reply button. This encourages the user to read others' replies before posting their own. The only way to post a question is from the Response screen for this very reason.
Post Reply - The post reply screen will consist of the question title (to remind the user of the question they're answering), and a textfield for the post. The post screen is meant to be very simple to use as not to hinder the posting of replies.
Profile - The profile will consist of their full names, specielty, workplace name and location, education, years practicing, number of questions answered, average response rating, number of questions asked, and length of time they've been using app. There will also be a miscellenous field where they can put whatever they desire. This information will give other users a general idea of how well this person knows his stuff.
Settings - The settings page will have a button to log the user out (this will be used very rarely because most people are the only ones using their iPhones), a slider to set how often the application downloads new information (question or answers) from the server, a button that opens the edit profile screen, and on/off switch to control whether there is a sound and or vibrate when a new reply arrives. When the log out button is tapped, the application is restarted and the login screen opens as before.
Edit Profile - The edit profile screen, is almost identical to the profile page, except instead of static text fields, it has edit text boxes. Whenever, a user is editing this, the boxes are prefilled with his currently set information. However, names, educations, and years of experiences cannot be modified.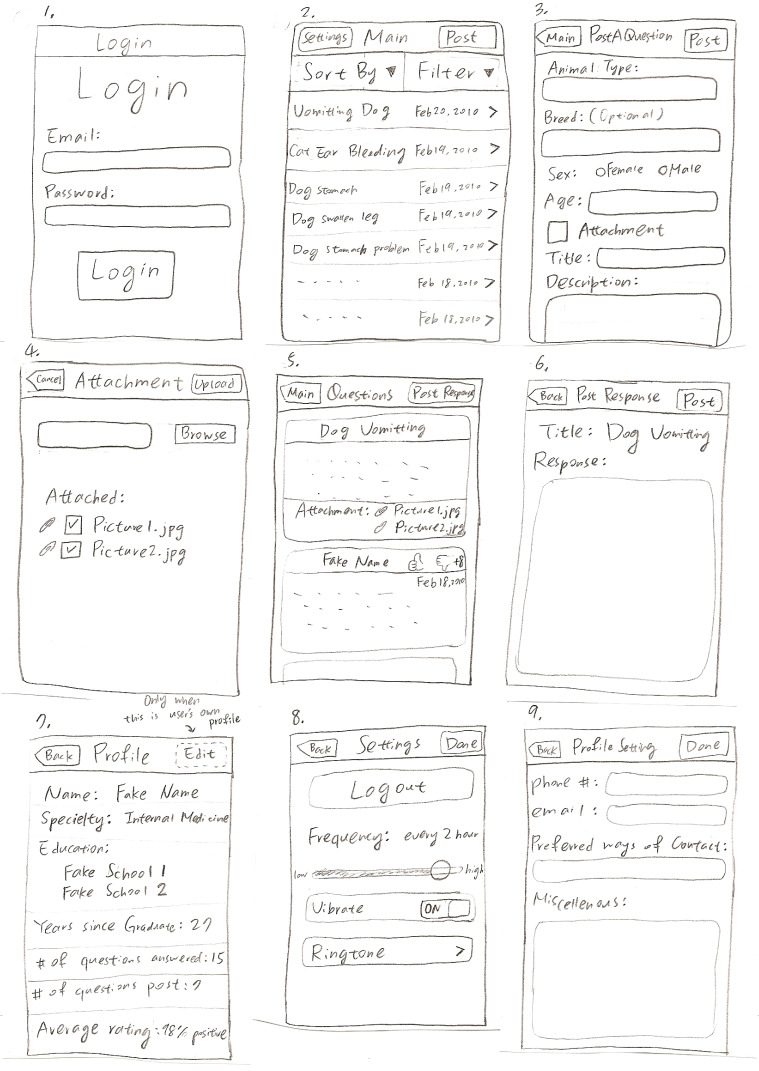 Scenarios
Rate Response: An emergency veterinarian is near the end of her treatment of a patient. Her phone vibrates. She decides to check after she finishes with the patient. 5 minutes later, she checks her phone to find it indicating that someone has asked a question on our app. She opens the app, and reads the question. She's definitely seen this case before. However she has noticed that in her delayed check, someone else has already responded with her answer. She decides to just give that response a positive rating and closes the app.
Answer Question: An emergency veterinarian is on a break in between patients. Her phone makes some sound indicating that someone has asked a question on our app. She takes out her iPhone, opens the app, and reads the question. She's definitely seen this case before and responds to the question with her answer and then closes the app.
Attachment: A patient comes in with a cat that has an unusual rash on it's ear. The vet has never seen this before so he has the cat stay in the hospital. He cannot find anything similar on the reference either, so he takes out his iPhone, starts up our app, and posts a question describing the cat's condition. He then takes a picture of the rash and attaches it to his question.
Analysis of Approach
Emergency vets have the difficult job of having to see and treat each case as they come in the door. These emergency cases tend to be more unusual and complicated than ones that can be put off to an appointment. Thus, they may have to use resources such as the internet, their colleagues, etc. However, because they work after hours, they may not have any colleagues at all in the hospital at those hours and it may be difficult to reach other colleagues in different hospitals via phone or email who may or may not be busy at that time. Furthermore, although there are helpful online resources like VIN that include message boards for vets to discuss topics, because of the lack of activity on the internet, they may not get a response to their questions quickly enough.
One way to analyze the difficult in communication between vets is to look at the existing processes. The most direct way of long distance communication is via phone. However, the steps involved in calling up other vets are many and tedious. They have to first look up the animal hospital's number, call them, and then wait for the vet on the other line to be free to talk. Afterward, they may still need to communicate via email to provide each other with images and charts needed to make a proper diagnosis/prognosis. In this way, they are not only limited in who they can ask for help by the other hospitals they are familiar with, but also limited in how they can ask for help by the way they can present data.
Using VIN is a step up from calling and emailing because now vets can ask their questions to all vets using that network around the world. However, they are once again limited in how they can ask for help. VIN doesn't have a specialized format for allowing doctors to post questions and diagnostic information about the case, and it also doesn't differentiate between the different users and their responses very well, making it difficult to figure out which responses are more accurate or are from someone who is better known in the community. These limitations are bad for the network because it discourages people from using the system, introducing latency between when a question is asked and when a response is posted.
Because of these limitations, we believe that mobile phones would provide an excellent way for emergency vets to streamline their task of asking questions to the community and quickly seeing accurate feedback. First off, the small and personal form factor of a phone would afford a much more mobile work style, allowing the vets to not be restricted to sitting in front of an exam room's computer to get answers when nobody is around. Using the 3G capabilities of iPhones, vets would be connected to the vets around the nation, and using the touch-capabilities and a custom-designed form, they would have an easy time to put exactly the data that matters in a very structured format when asking questions to their colleagues. Secondly, all vets, no matter how busy they were, would have a chance to contribute back to the system very easily by either entering in a response to someone's question or simply rating another vet's response up. Finally, because each vet also has a profile, all their posting and rating details would be kept track of on their profile. In this way, for example, an experienced specialists who might have accurate and insightful answers could become well known within the community. Overall, we aim to make the system both easy to use (touch interface, custom UI, interfacing with other existing systems) and accurate (exclusion to vets, rating system). By fulfilling both of these, users will slowly be attracted to the app, and the network will expand, reducing the latency between question and response.
Through our competitive analysis and through our interviews, we did not find any existing mobile phone application that tried to address this issue of emergency vets asking colleagues for help. Aardvark touches on the question/answer paradigm, but does not insure accuracy. VIN insures accuracy by being exclusive to vets, but its usage difficulty as a question/answer machine discourages this paradigm completely. In contrast, our iPhone app aims to touch on the advantages of both applications and bring them together in one focused application.
---