CompetitiveAnalysis-WeiWu
From CS 160 User Interfaces Sp10
Reinstatement of idea
After Coach Class's Group Brainstorm, we ultimately decided to create a virtual playbook application for athletic coaches to create, animate, edit, and keep performance statistics for plays of any sport.
Target user group
Hockey Playbook reaches out to coaches, players, and fans of hockey who would like to illustrate and save their football plays on their phones. Our project focuses only on coaches, but we hope to expand our application to be usable for coaches of all sports.
Functionality
HP allows users to create/edit plays and drills, and organize them by category. One can review a sequence of moves in one play by essentially turning page by page. Our application hopes to create animated versions of a play and save it, so that the user can see players moving in a play at the same time. HP also saves no data on the effectiveness of each play, which we plan to implement in our application.
Usability
HP has an "Undo" feature in such situations. Our application should emulate this "Undo" feature, which is often desirable when the user is drawing with his fingers. However, we should also improve upon HP's editing interface, which represents the players too small and makes them hard for the user to control, by designing an interface that requires less precision to achieve desired results.
Target user group
BCC reaches out to coaches and fans of basketball who would like to discuss and demonstrate plays anywhere. Our project focuses only on coaches who need to illustrate their plays, but we hope to expand our application to be usable for coaches of all sports.
Functionality
This application allows the user to move players across the screen in half court or full court, and draw lines on the board. However, every play drawn is "one-time-only" and cannot be saved, so this is really only for drawing plays on the fly. It is also a static drawing, so there is no way to review a sequence of moves within a play. In this sense, BCC's only improvement from the traditional whiteboard of a coach is its portability. Our application will extend functionality by allowing users to save and organize their plays so that they can revisit them later.
Usability
When the application loads, every player on the court is already labeled with their positions, making them easily identifiable. The interface is simple, relying only on dragging the players to move them and drawing lines whenever the screen is touched where there is no player. However, it offers no way to erase individual lines, only allowing the user to clear the board completely. Our application should strive for the ease of drawing plays that BCC provides but offer ways for users to fix mistakes they may make without restarting with a clean slate.
Target user group
Playmaker Football is a virtual football game simulator targeted at football fanatics who want to live out the experience of running a team. Although the app includes a play-drawing part, the overall application places more emphasis on entertainment than our project since it is meant to be used by fans. Coaches who use our app as a playbook will be looking for something more practical than PF.
Functionality
PF involves three stages: drafting a team with varied stats, building a playbook with plays that the custom team can execute, and simulating a game in which the user chooses plays from the playbook. PF's play-drawing aspect is not the focus of its application. Instead, it is part of complex virtual football game. Our project, on the other hand, focuses mostly on this middle stage of PF, where easily illustrating a play is the end goal. Although PF also saves the plays drawn in a playbook, it is for a game and not intended to be used for real-life football situations.
Usability
PF's user interface is visually appealing, and most reviews have no complaints about accomplishing the tasks necessary for the game. The play-drawing process does make use of unconventional symbols for certain actions, which our application should avoid. For each sport we implement, the symbols we use to represent an action should be as universally understood as possible, so that coaches do not have to learn a different set of symbols to use our playbook.
Target user group
PlayBoard XT specifically targets coaches, and offers different apps depending on the sport. In this sense, their target user group is the same as our project's, since we are both aiming to make an app that allows coaches to draw and share plays on their phones.
Functionality
PB XT allows coaches to save plays in an alphabetized playbook, in their photo album, or to email the play somewhere after they have drawn them. To export and easily distribute plays is a useful feature in that coaches will want a way to introduce plays to their players. Our app should offer this feature, but make the emailing process easy by keeping a roster of team members and their emails.
Usability
PlayBoard XT uses "triple-tap" to invoke the menu for drawing a play, and "shake" to undo a stroke. While the "triple-tap" may be a good idea, "shaking" to undo a move may be disruptive to the workflow of the user. A button on the screen would be more appropriate for such purposes. Some users also complained of not being able to position markers around the field easily. Moving players around is a crucial element of drawing plays on a phone, so this feature would be perfected on our app.
Target user group
Coach Bob is an app for youth soccer coaches to manage their players and positions, and track scores for their team. Our project is targeted at coaches but focuses on a coach's tasks of play-devising and strategy optimization instead of the administrative team-management tasks that Coach Bob aims to streamline.
Functionality
Coach Bob lets soccer coaches keep track of their team lineup, take players' attendance as they arrive, assign positions to each player, and keep track of game scores and player goals. Our proposed idea did not include features for keeping team rosters or distributing them, but we did want to incorporate some sort of game statistics tracking. While CB records scoring based on each player, we plan to record scoring based on each play during a game.
Usability
Navigating through the interface to accomplish desired tasks seems very intuitive, and the buttons are laid out in a visually appealing manner. However, a lot of users have requested features that are apparently missing from the application. Through contextual analysis, our design process will aim to include all the necessary features for our target group so that they have all the features they need to accomplish their set of tasks.
Target user group
MyTeam soccer is an app for soccer coaches to manage their teams and games. While its features are mostly geared towards internal team management, they do not help coaches get an edge on the competition. Our app will address the strategic portion of a coach's job by helping them draw and communicate strategies more effectively with their players.
Functionality
MTS records rosters and detailed individual player statistics for each player, and keeps a play time clock that notifies coaches to swap out players at certain time increments. It also allows coaches to share data on a player's performance. While data on players like penalty kicks and fouls made may help the players themselves, it does not help coaches make smarter decisions during game play to improve the chances of winning. Our proposed app allows coaches to evaluate success rates on certain plays executed to draw intelligent conclusions about which are actually effective.
Usability
MTS makes use of Bluetooth to transfer game data from the coach to individual players, so that players will know how they did. While this is a cool feature, it requires both parties to own the app on an iPhone. Our application would allow this but also incorporate sending emails for exchanging plays between coaches and players.
Target user group
Baseball Whiteboard reaches out to coaches of baseball who would like to demonstrate plays on the fly to their teams. Our proposed project similarly targets coaches who seek alternative options from a whiteboard to demonstrate plays.
Functionality
BBWB allows users to drag and drop players around on the screen and draw lines on the field to illustrate plays, and save plays inside the app. Our project will have this basic functionality, but enhance it with the ability to share these plays with others and keep statistics on certain plays.
Usability
The color contrast between players of opposing teams is not high enough, so that it is difficult to distinguish between the pieces. This is an easy bug that will be avoided in our project. BBWB does offer an option to draw grey lines automatically behind a piece when it is dragged and dropped. We must evaluate whether this is preferred to drawing lines in manually for our project to determine which method we should implement.
Target user group
iNapkin appeals to anyone who needs to jot down a quick idea or list, or enjoys making quick sketches. This group is a lot broader than the audience that we are making our project for—coaches who need a fast, effective way to draw and communicate plays on their mobile phones.
Functionality
iNapkin offers a variety of brush colors and sizes for users to make their drawings, and different napkin backdrops to draw on. Users can make drawings bigger than the screen size of the phone by panning and zooming. Drawings get saved as images and can be emailed or even automatically posted onto Facebook. Our project would offer similar but different features. The different backdrops in our app would be the fields corresponding to each sport. Drawings larger than the screen size are not necessary to convey the essence of sports plays.
Usability
The variety of brushes that iNapkin offers is too excessive for the level of complexity that drawing plays involves, so we will bring our users just the essential drawing tools needed so they will not be overwhelmed with such details. Also, iNapkin's method of erasing is simply with an eraser. Because plays may be intricately drawn, we will want to provide an undo feature so that the user does not have to be cautious about unintentionally erasing certain lines.
Target user group
The target user group for SportsBoard is exactly the user group of the project that we proposed—coaches of all sports who want a way to illustrate strategies easily.
Functionality
SB allows users to create a clipboard for a variety of built-in sports, as well as custom clipboards, where they can move players around and send then by email. Our project intends to do all of this. However, a crucial feature SB lacks is the ability to draw on the clipboard, to make notations. Clearly, this is key to effectively illustrate the fluid motion of a play, and it is something we plan include in our project.
Usability
SportsBoard uses a pretty straight forward interface for creating a custom field set-up to move players around in. However, the only way to illustrate different phases of a play is to create multiple clipboards. This becomes annoying to flip back and forth to see the progression of a strategy. In our project, we will aim to show fluid motion and make stages of a certain play more clearly.
Target user group
Basketball Manager is geared at coaches of basketball games who want to keep track of player stats throughout the game. Our project will reach out to coaches as well, but we will focus more on addressing the strategic planning aspects of their job.
Functionality
BBM helps coaches log all stats in games and keep a performance history for players. It does not appear to allow coaches to draw plays on the "clipboard" or to save them—it only allows markers for players and a ball to be dragged around. Our application would fill this gap in the BBM by creating a tool for coaches to easily draw plays on the fly to refer to during games.
Usability
The screen for keeping track of player performance during a game attempts to fit all the necessary information without scrolling, making the process potentially frustrating for users because it requires them to very precise with their edits. Our application would find more effective designs for the stat-keeping interface so that various options are more spread out.
Summary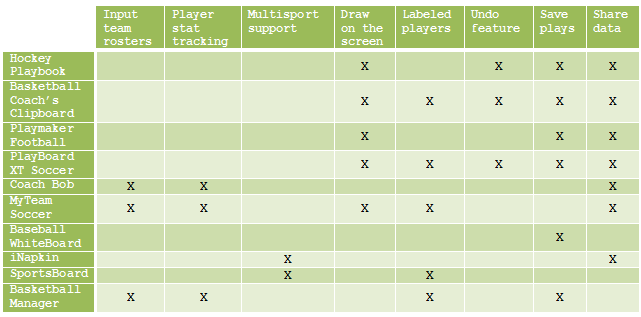 A review of the above 10 applications shows that there are many existing apps that allow coaches to draw plays on a whiteboard for a specific sport. They vary in visual appeal and usability, but all accomplish the basic functions of moving players around the field and drawing lines to indicate movement. There is also another vein of apps for coaches intended to aid team management (keeping rosters and performance statistics for each player) that has been well developed.
However, as seen in the above matrix, rarely are these two different set of tasks for coaches combined together in one application. Also, very few apps attempt to make a universal coach's clipboard that is compatible for any sport or allows a degree of customizability in building the playing field. One more key feature that seems completely missing from coach's playbook apps is the ability to animate components of a play.
Although our project proposal did not outline in detail what ground we would cover in our application for coaches, all of the above is territory yet to be explored in terms of app development, and options that we can explore to make our project unique. Pursuing an application that allows a coach to both draw and animate their plays seems most promising—albeit most complex. This would be a powerful feature that allows coaches to communicate with players in a novel way that has yet to be developed even through other larger mediums besides a mobile phone.
---