CompetitiveAnalysis-LongDo
From CS 160 User Interfaces Sp10
Restatement of Idea
My group selected to create an application where it would create a virtual card table where users that do not necessarily have to be the vicinity of one another can join the table and play blackjack, poker, Texas hold'em, and more against each other and have their chips carry over to the next game by having an account.
List of competitors (by price)
Analysis
Blackjack Free
The app is aimed towards users who want to play Blackjack only against a computer. The user could use our app but would not make the most out of it and is not the user group we are targeting. The app is very clean and simple with clear buttons and easily understood stats. The user and the dealer are both on screen at the same time. The scope of the game is limited to single-player Blackjack. This could be improved by having multiplayer and by having more card games besides Blackjack. The game is very helpful if the user just wanted to practice Blackjack, though there is no way to learn how to count cards like in other games, but this app is free and is very straightforward. The lack of other players on the table, even AI ones, is a disappointment that could easily be remedied.
Headsup Poker Free (Hold'em, Blackjack, Omaha)
Headsup Poker Free targets users who like to play any of the four styles of poker listed in the title. This is similar to our target user group, though we most likely will not include Omaha poker. The app allows users to play either against the computer, with another person next to them by sharing the iPhone/iPod Touch, or against other players using bluetooth or wifi. It seems like multiplayer is limited to two players only and that they are paired randomly. This is unwanted because if you cannot play a specific person over wifi and you cannot play against more than one person at a time. There is also no way to keep track of the chips you earn. The app is very simplistic, with a black background and easily read and accessible buttons. The game is free and for the connectivity it offers, it is quite worth it. Improving upon the design, account tracking, and the multiplayer implementation would be a focus with our group.
Live Poker
Live Poker is for users who want to play real-time live Texas Hold'em against others over wifi or 3G. My group's target user is similar in that we want someone who wants to play Texas Hold'em but would also play other games like Blackjack. A key functionality is the ability to play in real time against other users and bet with chips that carry over in your account. The game is also popular on Facebook and allows players from Facebook to play against iPhone/iPod Touch users. The app is successful in allowing many players to play and chat together at once through wifi, and solves the problem of a player losing all their chips by allowing each user to receive an certain amount every day. There is no buy-in so anyone can join any table and there is only one style of play, Texas Hold'em. I like the ideas that the app has, but giving the user more custom decks, games, and table controls would be a better idea.
iPoker!
iPoker!'s target user group are people who want a deck of cards but do not have one on hand, but there is no way to use those cards. The app features shake to simulate shuffling and provides the user with images of the cards. Contrary to the name, the app does not have anything to do with setting up a Poker game, but provides images of cards and the ability to swipe through them one by one. Our group would like the ability to give the users a deck of cards and allow them to begin playing with them, having one of the users be the dealer and controlling the flow of cards. The app is mainly just pictures of cards and while they tout their "Sophisticated Random Generation Shuffling Engine", there is just a sudden transition to a new deck. The app has nothing to do with poker and could not even be used to play poker against an AI computer, let alone other people. These are the things we would want to have in our app.
Ultimate Hold'em Poker
The app is aimed towards users who want to play Ultimate Hold'em Poker against an AI dealer. Our target user would only play against an AI dealer when there is no one else to play or he wants to practice against an AI opponent. Ultimate Hold'em Poker benefits the user in that they can play Ultimate Hold'em Poker, a style not as popular as Texas, on the go and practice their skill without losing any money. The game is limited to only the AI opponent and not real ones though. The game has highscores and leaderboards that use the GPS to find people nearby to compare scores. You can talk to other players but you cannot play against them. That is a big drawback because poker is a game meant for many players and would be a necessary part in my group's project. The game is pretty clean and nicely rendered, and the chips are carried over using a player profile. The highscores is something my group decided we would have, using chips as the scores. We like the idea of having a friends list, but would want the user to also be able to play against those friends by being able to easily set up a table and invite others.
Heads Up: Hold'em (1-on-1 Poker)
This app is geared towards people who want to play Texas Hold'em Poker against an AI or against another player by sharing the iPhone/iPod Touch. This is similar to our target user group except that they would also want to play others through wifi, 3G, or bluetooth so each player can have their own device for more privacy. The game features the ability to set your blinds, stack size, how aggressive the AI is, and dragging to simulate folding your hand. The game can also have chips on the screen or none if the players want to use real chips while they play. These functionalities are very similar to what my group wanted, but we would also like to have a player profile so chips can be carried over. The game takes into account privacy when having two players by having a "peek" function that only shows the users hand in a small easily hidden corner of the screen. The game is a bit cramped when having two players use the same device but the finger gestures such as dragging your hand into the middle to fold is pretty interesting. I don't think we would have two players use the same device since most devices can connect through bluetooth, wifi, or 3G.
21 Pro: Blackjack
21 Pro: Blackjack is aimed towards users who want to learn basic strategies of blackjack while playing. This is similar to our target user group, but they should also want to use those strategies in real-time games against other users. The game allows players to learn how to count cards, showing statistics of the cards, and allow the user to play multiple hands. These are good features for beginners who want to learn how to play, but without real opponents, the strategies and techniques learned would go to waste. Multiple hands would also be unfair in a real game, something we would most likely not allow. The game is nicely laid out, with the chips on the right and the action buttons all lined on the bottom, with the ones that are allowed lit up and the rest grayed out. The game also has a player profile to show stats and ability to change deck size. The game lacks any multiplayer capability and no way to set the AI's difficulty. My group's project is geared towards connecting the user to other players to have a lifelike card session. Something this app cannot do.
Imagine Poker 2 - Texas Hold'em
The app is targeted towards users who want to play against multiple AI opponents in Texas Hold'em. The target user of this app is similar to my group's target user group because they both want to play Texas Hold'em, but my group's target user group would want to play against real opponents, not AI, and have a profile that carries over. The game's features are heavily cosmetic, with many humorous characters to choose from, many with their own voice work and gestures. While the presentation is nice, the game leaves a lot to be desired. There is no multiplayer, the view of the user is in first person through the eyes of the chosen character, and the game can seem slow when waiting for all the AI opponents to finish their turns. The game's AI has also been noted to be too timid and there is no way to change that setting. The ability to change the AI, play real opponents, and be able to feel like you are sitting at the table are major parts of my group's project.
Video Poker Professional
Video Poker Professional is for users who want to play video poker. This is similar to our target user group in that they want to play a type of poker, but different in that there is no dealer or opponent to play against. The app is great for users who want to practice their luck and skill in poker without having to lose any virtual money and is quick because there is no opponent, great when one just wants to practice. The game features the ability to see the ranks of the hand, something that is helpful and we would be incorporating in all poker games. The interface is basic and almost bland. The game does its job very well, but does not provide more than video poker, and doesn't even include a player profile so the earnings cannot be kept. My group's project would want to bring more players together and have them compete against one another.
Texas Hold'em
Apple's own app, Texas Hold'em is meant for users who want to play Texas Hold'em against others online in real time. This is similar to our group's target user, but differ in that they would also want to be able to play other types of card games. Texas Hold'em allows the user to join a real-time game and win chips against other players, good for users who need to play but don't have access to a computer. The game features buy-ins at different tables, tapping and flicking gestures, and the ability to play a single-player mode. The app also has the ability to keep a player profile that keeps track of stats and winnings. The game doesn't have the ability to have a friends list and the ability to chat (either textually or verbally), things my group finds important to creating a dynamic game.
Summary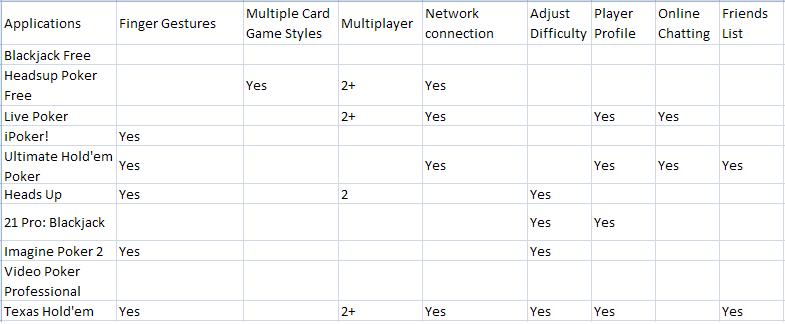 There are many apps out there, each mainly focusing on one style of gameplay (blackjack, poker, Texas Hold'em, etc.) and not many have the ability to connect with other users in real-time. Many of the apps mainly used buttons for user interaction and did not take advantage of the accelerometer to change view or indicate shaking motions. My group's project would focus on a user having the ability to join a table playing whatever style he prefers, chat with the opponents to create a better atmosphere, and keep his winnings in a profile that will be reflected on a leaderboard. Since card games are about competition, the ability to show off your stats (like how much you've won, lost, and the ratios of games won and loss) would create a very healthy competitive following. And since card games are about the players, users should have the ability to keep a friends list so that friends can be easily invited into card games. Our app will attract users who want to play casino card games with others to show off their skill, play against real opponents, and have a casino-style game regardless of where they might be.
---