ProjectProposal-ColinDowns-Razouk
From CS160 User Interfaces Sp09
Music Workshop
Game Premise
A music practice game, that helps players improve their recognition of harmony, rhythm, and intonation. Some games with a similar purpose exist here, but they are really awful, and they aren't really games, more like exercises.
Target User Group
The target users for this game are people who want to learn more about music and harmony. This will often be high school students who are in their school band, or even college students who are majoring in music and want some more practice with harmony. Also, many parents would want their young children to play a game that teaches them harmony rather then having them play violent games, especially considering how listening and playing music has been related in many studies to good grades.
Problem Description
Practicing music is not always the most fun thing to do. It involves a lot of repetition, and a lot of diligence. Also the rewards of practicing music are not always immediate, and so practicing can become a frustrating and generally "no fun". In addition to these problems, there are some things that aren't generally part of traditional music practice, like practicing harmony recognition and intonation. The problem is thus to create a game that makes practicing music fun, and introduces more exercises to music practice that are often ignored.
Problem Context and Forces
Almost all people can understand music on some instinctual level. Even children can distinguish a major chord as having a distinct sound from a minor chord. The problem is to create an easy and fun way for people to exercise this innate ability and, by exercising this ability, possibly become better musicians. There are three main aspects that I will be focusing on: rhythm, intonation, and harmony. Rhythm is already a popular aspect of many games, like Dance Dance Revolution or Donkey Kong: Jungle Beat. By practicing rhythm on a computer, you can easily evaluate the accuracy of the rhythm. Intonation is the measurement of how "in tune" two instruments or notes are. Almost all people are aware of intonation, but by listening for it and doing exercises with intonation, people can become more sensitive to it. Finally, harmony is another important aspect of music, especially of western music. It is important for musicians to be able to hear what notes harmonize with other notes, so that they can tell when they are playing the wrong note. Musicians need to practice these things to improve their playing, regardless of what instrument they play.
Sketches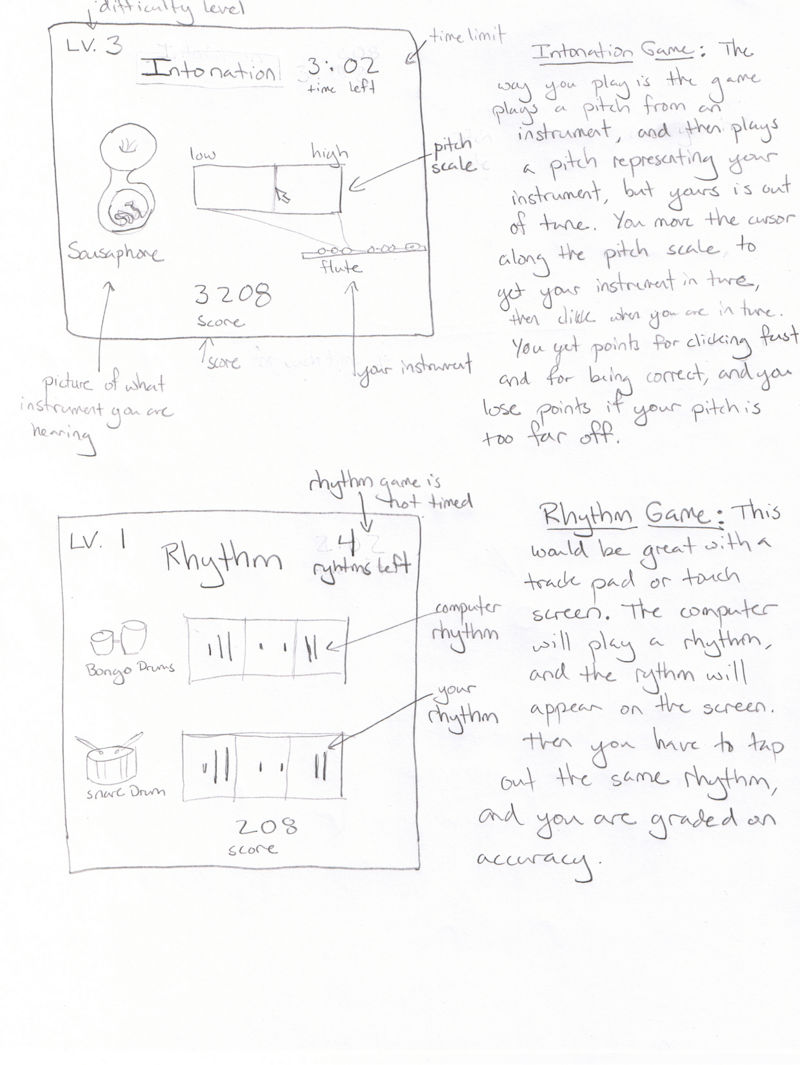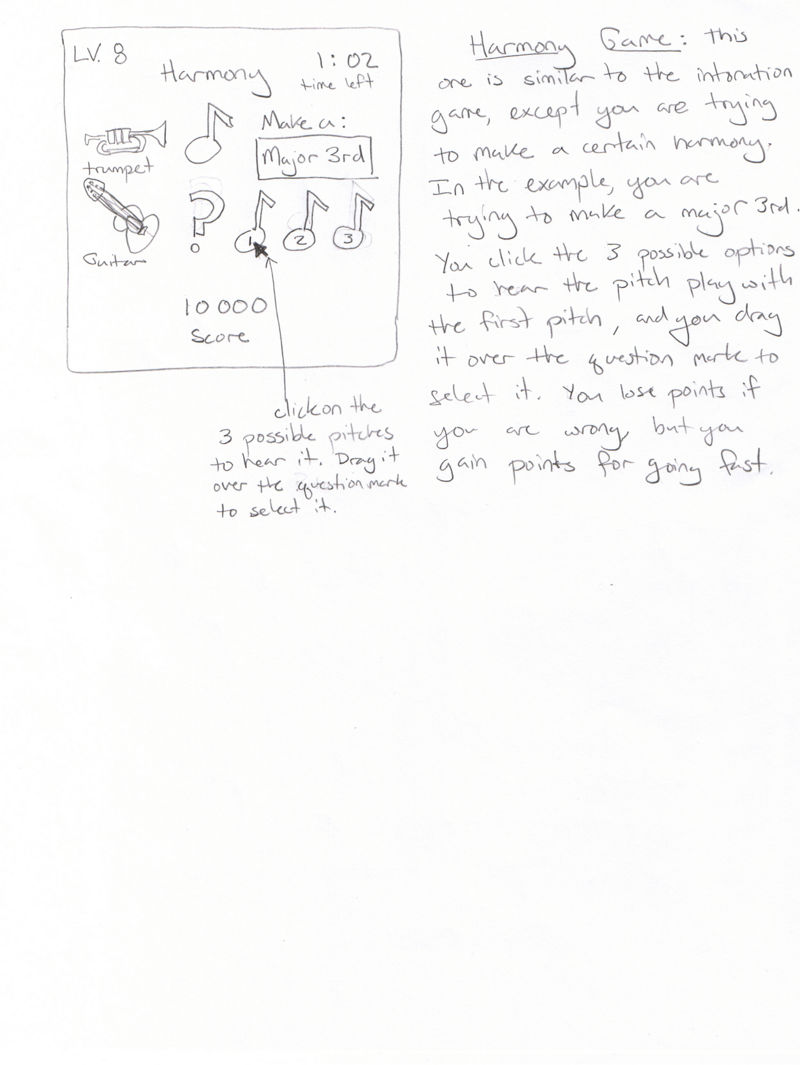 ---