Photocopier-AdamKauk
From CS160 User Interfaces Sp09
This is my first design. Call it compact/efficient model:
It's good because it is all on one screen, but the trade-off is that the screen is kind of busy, so it might be a little overwhelming. The sliding scales will be such that the user can put his finger on the slider and slide it. If he slides the shading one, the screen will actually get darker or lighter while his finger is on the slider so that he can see how much brightness or darkness he is adding to his picture. The start copying button is also the stop copying button whent he machine is copying.
Here is my second design. Call it the standard/customize model: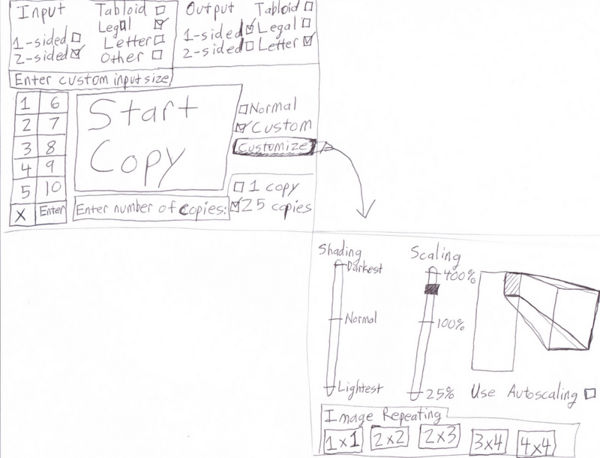 It is called the standard/customize model because it is very easy to do a standard copy. Just click on the normal button press start copy and it will print a standard copy (or more if you specified). (And actually this is a little customizable, because you can choose a custom input paper size.) Standard includes autoscaling, so the output will be filled by what was on the input page (or two pages if the input was double sided).
But then if you want to customize, you click on customize and it will take you to a customize page, where you can specify a custom scaling (which you can see a representation of), a custom shading, and image repeating if you want. All of these customizations will be represented by the two papers next to each other, which show how the input is mapped to the output paper.
Finally, my grand finale. This one is the sliding frame model: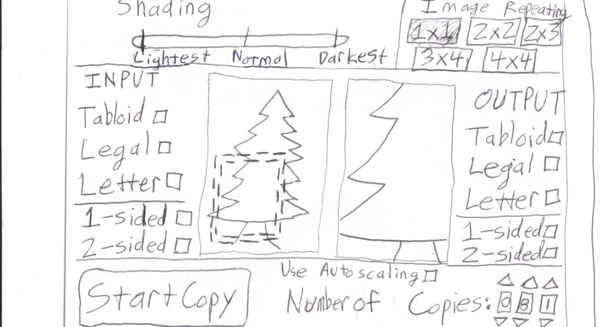 The reason it is called the sliding frame model is because the scaling is done by expanding or contracting a frame (on the input or the output image) which you can move around. This makes the copy easier to customize, because the smaller image can come from any part of the input page and can go to any part of the output paper, and you get a visual representation of it while you choose it. It is expanded or contracted by grabbing corners. It is slid by pushing around on the middle of it. There is also an autoscaling option if it is needed.
The input options are on the left side by the input image and the output options are on the right side by the output image. The shading can be slid back and forth and the output image shows what it will do to the image. The number of copies is controlled by clicking up and down arrows for each of the three digits of the number of copies.
This model, like the first one, doesn't need any helper screens. It's all on the first screen.
---