ProjectProposal-TimothyEdgar
From Cs160-sp08
Project: Unfilled Contact List
Target User Group
The target user group for this application are users who use their phone casually and do not wish to spend much time in setting up and managing their phone. While this application can benefit many different user groups since it makes unfiled contact management a lot easier, it is primarily designed towards those who will put in the least effort as those who customize their phone frequently most likely will keep an organized contact list. Those who have many factory defaults and use the basic functionality of the phones most likely suffer from the problem of filing contacts from recent calls. Additionally, target users should have a high call frequently, so the typical recent history lists become far less useful. This is targeted primarily towards college students and people in industry that have the potential with interacting with a lot of (new) people.
Problem Description
Often times when you get a call you aren't necessarily free to store the an unfilled number to a contact. These numbers get saved in the received history list, however depending on the frequency of the calls, that number can disappear from the list in a matter of days. Often, if a contact isn't created immediately it isn't created at all. Thus numbers that a user may wish to keep will disappear in a matter of days. This causes the problem of people having to find the person's number through other means.
Problem Context and Focus
The problem arises when a user gets a call from someone not on the contact list. While contacts are added individually at times when there is time to share contact info, contact creation is rather difficult when you are on the run. If you get a call while driving or on an errand, you don't necessarily have the time to go through the rather annoying process of typing a name associated with the contact. Additionally, if there isn't a call or need to use the phone (especially for users that use a phone for primarily communication), the phone isn't touched. When people aren't busy is the ideal time to store these contacts. There needs to be a reminder notification similarly to voicemail and text messages when people check their phones for new messages. Users often check their phones to see if they missed a call, however the thought of updating contacts does not come to mind.
Fundamentally the problem solution revolves around reminding the user to update contacts and make sure the phone is organized well. There needs to be a list of the numbers that the phone knows but does not have any name associated with it. There is metadata in terms of the interaction with that number (calls, text messages, timestamps), but the recent history list only carry recent data. By having such a list that persists until a number is removed, the user can just look at the number and add a name to it if he or she remembers who it was. If not, more detail can be given about the number to jog a user's memory. Hopefully with notifications, users will deal with these unfiled contacts within a few days such that the number or interaction will still be in their memory. Additionally through notification, the goal is to prevent the snowball of unfiled contacts that this management is as simple as checking voicemail or text messages. Notification probably can be done similarly to the passive notification of voicemail and text messages, where there is a little icon on the main screen drawing subtle attention.
Lastly if memory permits, a small snip-it of sound can be recorded and associated with these unknown numbers to allow people to remember who was who.
Solution Sketch
The solution sketch is designed for a basic run of the mill "free phone" with basic functionality. It assumes it has a few buttons for input and some means to go up and down a list. It is low-tech as the target audience are casual users who don't spend much time on their phone other than communication.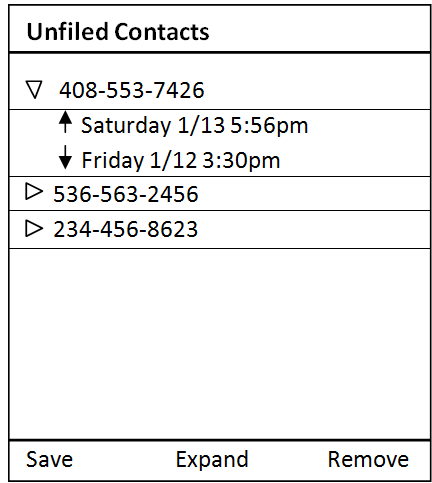 ---