ProjectProposal-JohnnyTran
From Cs160-sp08
The Night Watch is a mobile phone application which shows all nearby restaurants which are currently open. It is designed for late night diners who, upon finding themselves hungry at 3am in the morning, will know exactly which restaurants are still open.
Target User Group
This project is designed for people living in an urban setting with many nearby restaurants of different types and various open hours. These people could be awake and hungry at any time, day or night, and may want to eat out. They want a quick and easy way to determine which restaurants near their current location are open, where they are, and what type of food they serve.
But this is not just for nocturnals. A common situation among city-dwellers is deciding where restaurant to go to. This group wants a list of restaurants that can be filtered by type, location, price range, and other criteria.
Potential examples of this user group include college students, people who live in large cities, and travelers.
Problem Description
This project solves the problem of deciding where to eat. A user may be in a certain location at a particular time and is craving a particular kind of food. However, he/she may not know which restaurants are nearby which fit the criteria. The Night Watch solves this problem by presenting potential restaurants which will satisfy the user's needs and help the user decide the proper restaurant.
Problem Context and Forces
This application must work anytime, anywhere. It is possible that the user may not be within cell phone or wireless internet range, which means that the application must work either online or offline (to the best of its abilities). It is likely that the user will be on the move, so the application must update in real-time in response to changes in both time and location. Because users will frequently use the application only to glance at it, information must be available in a quick, easy-to-read format.
No assumptions are made about the user's education level or proficiency with mobile applications. The Night Watch is designed for anyone who can get hungry.
Google Maps is one possible alternative which performs some of the functions that this application is designed to solve. However, it is too cumbersome and complicated to use in relation to the problem context.
Solution Sketch
There are several display modes in which the Night Watch can be operated:
Map Mode: This is the default mode which displays a map of the user's surroundings. Restaurants which are open are marked on the map as dots. It updates as the user moves.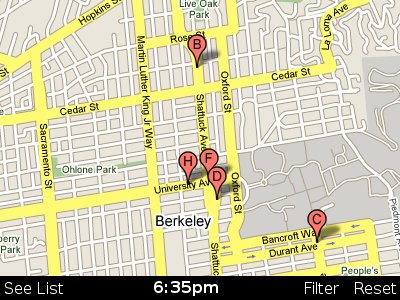 List Mode: This is the same as the map mode, with the difference being that restaurants are displayed in a list. The advantage of this mode is that more information can be displayed about each restaurant.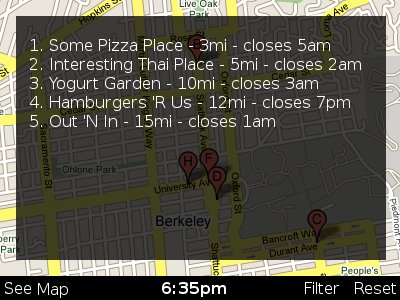 From either display mode, the user can select a particular restaurant and view the restaurant details.
Restaurant Details: This shows detailed information about the restaurant. There is a link here to the Restaurant Map screen.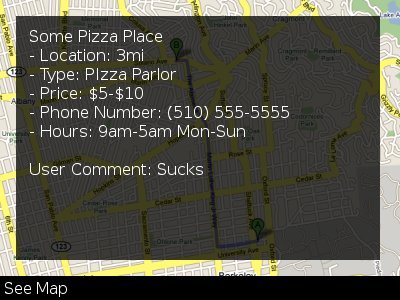 Restaurant Map: This shows a map with the user's current location and the selected restaurant's location, with a path presenting the best way to get to the restaurant. Like the Map Mode, it updates as the user moves.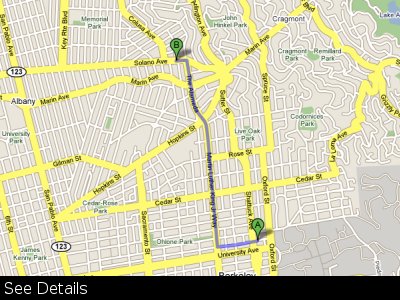 Also from either display mode, the user can filter restaurants by certain criteria or clear existing filters.
Filter: This provides several options in which to narrow down restaurants.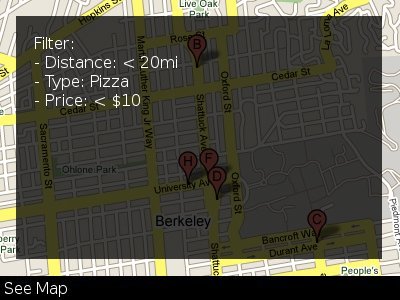 ---