Group Brainstorm-Group:Group 4
From Cs160-sp08
Team Freaking Amazing
Daniel Gallagher
Mike Ross
Andry Jong
Jessica Fitzgerald
Brainstorm Ideas
Child Tracker (parent tracker, baby monitor, big brother, citizen tracker)
Upgrade Alarm clock function:

Info you want when you wake up
Daily affirmation
Weather

Merge todo list/even organizer/calendar/reminder system

Alarm system w/ todo list
Wake up, see user selected info (e.g. weather, todo list)
Store info online, sync between all devices
Calendar sharing, subsets
Calendar comparison
timed and untimed events
integrate contacts w/ todo list
attach anything to todo items (maps, images, plans, notes, etc.)

Walkie Talkie/open channel function
Daily or trip itinerary generator
Price Scanner
Personal Apperance Tracker aka 'VanityPhone'
Augmented Reality

FAST info retrieval
faster than taking a pic- video stream not picture

Entertain Me: what's around? Plug in address, get fun stuff (restaurants, clubs, drug dealers??)
Phone Taser, phone pepper spray
Emergency Panic Button: Upload picture/GPS location/# instantly to 911, find local emergency centers
Vital signs monitor
Camera based game: what are other cell-specific input can use
Motion Tracker game: vibrates more when other players are closer, "Hide and Seek Xtreme"
Mobile Cookbook
SpamBuddy/Annoying Kid: for spamming people!
Weight Watcher Buddy, calorie counter
GambleBuddy: instant gambling, shows up on phone bill
ElectionTracker
TV summaries/specific newsfeeds over your phone
LunarBuddy: moon phase calendar
SolarBuddy: sunset time
StudyBuddy: vibrates/alarms to keep you awake when you need to study
Security System: house sec system linked to phone
Flashlight mode: full brightness. full destruction.
Automated translator: voice to text + translate google but not ghetto
BrideBuddy: wedding planner? Or what?
YoutubeBuddy: Easy app for looking up youtube without lots of browser use
PirateBuddy: bittorrent manager for your phone, manage a bittorrent client remotely
DesktopBuddy: Manage arbitrary desktop apps from your phone... VNC for your phone
BuddyBuddy: will stay with you even when your other buddies leave you.
Idea Selection
We will be developing an extended alarm clock feature for cell phones. It will provide user requested information upon going off, support specific dates for alarms, flexible options for recurring alarms, and hopefully a Java API or even a GUI that allows other users to extend its functionality.
We chose this project for a few important reasons:
Scalability of features.
Usefulness to ourself and others.
Excellent potential for integration of google's existing apps.
First and foremost, this problem is very flexible. The minimum requirementss for our program involve an alarm clock that provides contextual information when it goes off. We could potentially add features until it made coffee; so far we've discussed a full fledged calendar system for managing alarms and a flexible user interface that allows user to grab any type of information they want. The latter could come in the form of a GUI or an API. We imagine user made plugins would add a lot to the system.
As for usability, each member of our group would use this. We don't want to have to turn on our laptops or desktop when we wake up to check the weather, check traffic, or do whatever else we have to do. Radio and television are even worse, as you can't get to the info you want immediately, or you might even miss it if you're distracted. Having it on your phone allows you to pick it up and run with it with exactly the information you need.
We discuss potential for extendability later.
Project Description
Target User Group
As Dan put it, "We believe a wide range of people like us and unlike us need to wake up in the morning." More specifically college students may want to know the weather report as soon as they wake up so they can dress appropriately for a day of walking around campus. People struggling with self esteem issues or people who have trouble waking up in the morning might enjoy words of encouragement to start their day off on the right foot with our affirmations option. People anywhere from students to those in the working world would be able to take advantage of the to-do list part of the alarm to keep track of what tasks they need to complete before the day is through, whether it be work related or personal. The solution to the problem does not target one specific group but instead will meet the needs of several groups depending on what information the solution will give access to after the alarm is set off.
Problem Description
Waking up early (or late) in the morning, what do people want for their day? There might be a lot of different things that people want to have to start their days.
We know for sure, however, that it is going to be very upsetting to have dressed ourselves the best in the morning, only to have our outfit be a canvas for the cold rain drops; or just to have our arms be a coat hanger for the rest of the day.
We also know for sure that it is going to be very upsetting to have entered a highway just to wait inside your car - reading news paper, maybe - because we are stuck on traffic.
And we know for sure that it is always nice to have encouragement we need at the beginning of our days.
The solutions to the first two problems are trivial: Weather and traffic report. However, how to get those solutions are not very trivial. Fumbling around half awake trying to turn on your computer is already hard enough. Trying to turn on the TV or radio to get those information is even worse. We can only keep our faith that the information that we need will come sooner or later.
But that is not enough, we need something instant. We need something that we can rely on even when we are late. We want to know the information we need instantly as we get up. We want something that's ready, whenever we are ready.
Problem Context
Our main problem is mostly time. People usually wake up not very long before they need to go to work or school. Having to turn on multiple devices like computer, TV or radio requires too much time. Moreover, for TV and radio; we might have missed, or have to wait for the information that we need, while the time that we have is limited.
We need a device, that is always on, that can help us with this; a device, that does not need to load before we can get the information we need; a device, that would know when is the perfect time to give the information that we need. We need a device that we can use on the go when we may be running late.
Hence, we came up with the idea of extended alarm clock feature for cell phones. As alarm application would know when the users are awake, we know the perfect time to give the weather, traffic, or other information such as words of encouragements.
Why Mobile Devices and Android are Good Technologies for the Problem
As mentioned previously, it's time consuming to get the information you want when you're getting everything ready in the morning. You can't pack up your laptop and check google traffic and weather at the same time, you're tied to waiting around your TV if you use it for weather and traffic, and if you're waiting for traffic news in the car radio, you may have already gone the wrong way before they get to local traffic. With a mobile device, however, you can take it in your hand and run, then look up exactly what you need on the way.
Android is an excellent option because it allows integration with robust existing utilities and almost unlimited extensibility. Our devices key features hinge on already existing features like the map interface, or google weather. Not only that, Android's flexibility and transparency for handling different tasks (referred as "intents" in the PR and API videos) makes Android a perfect platform for allowing users to define their own wake up information.
Solution Sketch
The user will access the UI for two reasons: to set or edit their alarm times (and other settings) OR to set up applications that will be run right after the alarm goes off. IMPORTANT: The user will NOT access this UI when struggling to turn off their alarm in the morning. Instead they will have a simple keystroke to disable (this feature is still under discussion).
When first running the application, a user will see a screen similar to this: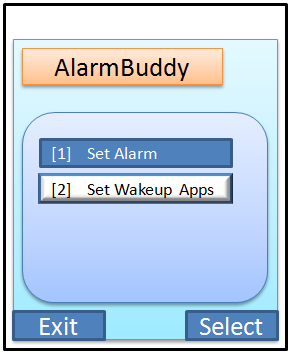 The currently selected option in the menus will be specially colored or textured to make that fact clear. Additionally, most menus are 'shortcutted' by allowing users to type numeric keys to jump to that option instantly. For example, the alarm editing feature may look something like this:

The wakeup apps represent the clearest area where our application provides more functionality than a standard alarm clock. These applications, which can be viewed in UIs similiar to the examples below, are 'plugged in' to the main application and run after the alarm goes off. Along with many included wakeupApps, there is no reason why additional apps could not be downloaded (or even created) by users. We see these apps as being mainly communicators of useful information from the internet, seamlessly integrated into our application without pesky browser usage, and paired down to the most essential, desired features delivered in a pleasing & convenient manner.
The actual alarm screen will look something like the following options:
In the first option, the user uses the number pad to select an item that you want more information about. For instance, clicking "1" will give you the day's forecast. Clicking "2" will show you the traffic for a route you selected. Ideally, the thumbnails could show you immediate information you could glance at to see if you DO need to know more. For instance, the weather would show you the current temperature and rainfall, and the traffic could tell if you if your usual route is congested, but if you focused on them, it would bring up a separate screen with the day's complete forecast or google maps with traffic for your entire route, respectively.
Blank items are items with no option, the user can set or rearrange any item they want and customize it with whatever info they would like to have. If a thumbnail icon isn't available, they can use text instead.
The second option has fewer choices on screen at once but allows much more information at a glance. Both options allow the phone to speak the desired information when the user presses the "voice" button as well. You will be able to enable or disable which options get spoken for each item.
---