AndroidApplication-MaxwellPretzlav
From Cs160-sp08
Files
Media:PretzlavAndroidIntroApplication.zip
Features
Tag Entry and Results Size Selection
When the program is started for the first time, this is the screen the user sees (minus "internets"). The spinner allows the user to select between 5, 10, 15, and 20 images to be displayed in the subsequent GridView. Paging between sets of images isn't supported.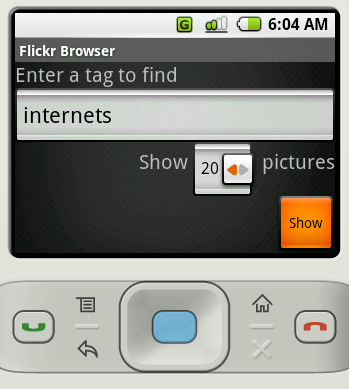 Browse Images in a Grid
The user can navigate among images in the grid using the directional buttons on the phone. Press the center button to zoom in on an image and view it full screen.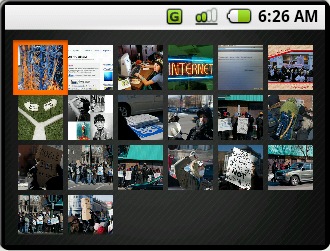 View and Browse Images Full Screen
While viewing an image full screen the left and right D-pad buttons navigate to the next and previous images in the grid. The center button returns to the grid, selecting the last viewed image.
Set an Image as Wallpaper
While viewing the grid of images the menu button will bring up this menu, which allows setting the current image as the phone background, as well as going back to the tag entry screen (the same as the back button), and viewing the image full screen (the same as pressing the center button).
Issues
When returning to the GridView sometimes random images disappear or the selection jumps in mysterious ways:
If the application is resumed after being killed at some point after the user pressed the home button while in the zoomed-image view, the program resumes in the GridView.
The upper left-hand corner image should default to being selected in the GridView, instead nothing is selected and the first directional button press selects that image. This is despite explicitly setting that selection.
The menu is super ugly, but I couldn't figure out a way to change it at all short of drawing icons for each action.
---