ProjectProposal-VijayRudraraju
From CS160 User Interfaces Fa06
Digital Meeting
Target User Group
Members of Board Meetings
Members of Cooperative Living Units
Town Hall Meetings
Team Meetings
Problem Description and Context
Group meetings are an important event for companies, organizations, clubs, coops, and any setting in which collective decision making is required. Ideally, everyone's voice would be heard and all members would be given an equal presence in the discussion. There would be no fear of offending housemates or friends by making a valid point in opposition and junior members would feel just as comfortable disagreeing with their peers as with their seniors. However, anyone who has had extensive experience in these situations knows that meetings never come close to this ideal. The members who are heard are those who are most vocal, who are most confident, and who hold the most power in the organization. Discussions become polarized and rational arguements often come second to impassioned, emotional rants. This is almost always the case when the issue being discussed is controversial. The other extreme is very delicate topics, which almost no one is willing to risk taking sides about. There are methods for anonymously collecting comments and votes during a meeting periodically, however the cost is a much longer meeting and efficiency is one of the most important considerations for a meeting. Longer meetings lead to lower attendence, decreasing interest, less rational discussion, and general discontent. The alternative would be for everyone to have a laptop, however this is undesirable even if cost were not an issue. Laptops/Tablets afford too much potential for distraction and creates a much more impersonal atmosphere.
Solution
The Annotos pen provides the tools neccesary to limit these deficiencies of traditional meetings. Discussions can continue to be verbal with the understanding that comments can also be made to the president/arbitrator of the meeting so that they may read the opinions of less vocal members. These comments can made anonymously or not depending on the notation that accompanies the comments. In this way questions, comments, points of information, ammendments, calls to question, etc. can be annotated and prioritized automatically by the president and relayed verbally to the rest of the members. Discussion can also occur between individual members without disturbing the rest of the meeting by way of this system. Minutes for the meeting can also be taken more accurately in this way with precise timestamps for when comments were made.
Voting will benefit greatly from this system because sensitive votes can be made anonymously when the situation calls for it. Additionally, votes involving more than two choices can always be made by ranking choices because the instant runoff will be taken care of automatically by the Digital Meeting system.
If the situation calls for it, highly charged topics can be made written only and thus encourage members to think through their comments to avoid undue personal attacks and insensitive comments.

Solution Sketch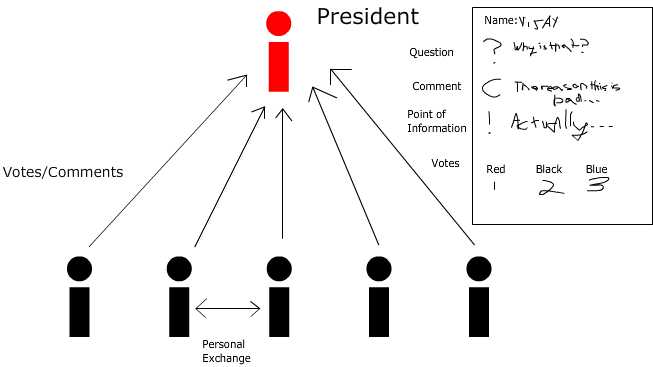 ---