ProjectProposal-RobertTaylor
From CS160 User Interfaces Fa06
Project Proposal - Robert Taylor
Virtual Whiteboard
Connecting users for remote collaboration

Problem Description: Remote, realtime collaboration on projects requiring non-keyboard based input is difficult and cumbersome. For the average user, who does not have a tablet PC or scanner, it may be impossible. This can lower efficiency and prevent good ideas from being effectively sounded out in projects.

Target user group: Those who work in groups and whose work is difficult or impossible by keyboard and mouse. Some examples: design teams, marketing departments (logos and advertisements), students (collaborating on homework), scientists and engineers (heavy use of equations and diagrams), doctors (collaborating with other doctors regarding patient treatment) and military strategists (realtime coordination on battle status and plans via maps).

Problem Context: As mentioned, some solutions, mostly impractical, already exist: using tablet PC's as a medium, repeatedly scanning the document, or simply meeting whenever practical. Due to the visually oriented nature of what most users do, many will feel that pen and paper are their most trusted tools for recording ideas. In situations where users need to work together from remote locations, current solutions either do not provide this pen and paper functionality or do so in a way that severely constrains the ability to collaborate frequently and in real time. Due to the advantages of realtime collaboration, users with somewhat time critical needs will especially benefit from this application. Some technology (computer screen and internet connection) would be required to use the application, so it would be geared towards professionals and others who have easy access to these resources.

Solution: a virtual workspace that users for users to collaborate. Just like a conference call, users can initiate and join meeting places with a kind of group interaction space. Once connected, they can use their Anoto pens and paper to write on the virtual workspace. Realtime changes provided by bluetooth connectivity allow other users to interact with each other remotely and through a medium they are comfortable with. The changes to the workspace show up on the users' screens,
Possible features/plugins:
- User edits are organized into layers allowing one to easily see who has contributed what and reduce clutter.
- Users can take a snapshot of the workspace and print other user's notes over their own copy.
- Privacy settings to toggle updating the workspace with what the user is writing (for personal notes).
- Various export features: PDF conversion, email, printing, etc
- Chat capability with AIM/Messenger or Skype

Sketch of the system:
A: Remote users write with Anoto pens
B: Uploaded to virtual workspace
C: Update as necessary with personal printer
D: Export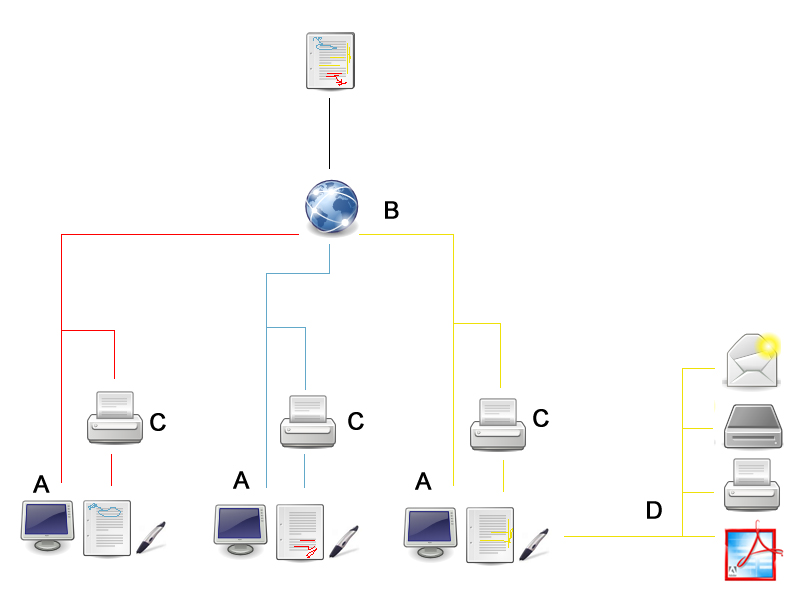 Similar ideas:
"Whiteboard", a part of NetMeeting: a similar idea, but uses the mspaint interface. The very basic interface makes it unsuitable for professional collaboration; it is barely a step above creating a picture in mspaint and emailing it to someone. Additionally there is no support for pen-and-paper interface.
---